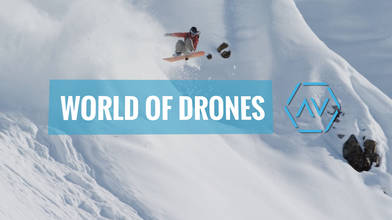 AirVūz News: World of Drones 02/15/21
Published 02/15/2021 08:51

We get things kicked off with more leakes regarding DJI's Flash FPV drone. According to the most recent reports, and a couple of unboxings, DJI's first fpv drone will have the capability to shoot 4k at 60 fps, as well as 120 fps in 1080. Another major factor will be that this FPV quad will have a flight time of 20 minutes per battery! The full combo is said to include the drone, controller, and most up-to-date DJI FPV goggles. Release date is said to be early March.
While on the topic of FPV, this latest project from Team AirVuz Pilot Gab707, along with fellow DRL pilot Jordan Temkin aka Jet, may be one of the coolest action sports projects we've seen filmed with FPV drones yet. Over the past few weeks, Jordan and Gabriel have been working with the Natural Selection Tour out in Jackson Hole, Wyoming as part of their YETI Natural Selection Snowboarding Tour, which was also sponsored by Red Bull.
To say it was a fantastic decision by the Natural Selection Tour to implement FPV footage, would be an understatement. Plus, adding Jet and Gab, who are also avid snowboarders and skiers, was the absolute perfect match for this project. When talking with Gab over the weekend about this experience he said, "Riding a board and flying FPV have some very similar vibes. It's all about focus, lines, flow and finesse of execution. It's always an incredible experience ripping down a mountain with some of the world's best athletes, working my best to compliment their run. Nothing beats everyone being stoked on the shots at the end of the day." Well Gab, after seeing some of the footage, we were stoked too. Keep up the fantastic work!


Now, since we're talking about epic drone content, might as well stay on that trend. How about some AirVuz drone videos of the week?!? Here in no particular order are the top-5 videos uploaded to AirVuz last week:
First up…
Drone Showreel 2020. Lensflare Creative by TonyCorreia

Reels, reels, and more reels. And we love them at AirVuz! In this 2020 drone showreel from Tony Correia, he takes us on an amazing aerial tour above various landscapes over everywhere from Portugal to Northern Africa and many places in between. Some absolutely remarkable footage! Great work Tony, and we can't wait to see what you have in store for 2021!

Next,
Winter's Tale by DiamondSky

That's right, another drone video of the week nominee from DiamondSky, and wow was this stunning. Whether it's the cold of winter or sunny summer skies, DiamondSky always knows how to capture the landscapes. In this latest flight from them, they fly over the snow powdered trees in the mountains of russia, and it truly feels like a flight over a winter wonderland.

Next up,
In the Loop | Chicago, Illinois | Aerial & Timelapse 4K by Framework Films.

Speaking of returning Drone video of the week nominees, Frameworks Films, who just took home the January Drone Video of the Month crown, is making a case to become the first ever back-to-back Drone Video of the Month winners with their latest film from Chicago. Another unreal day and night flight, but instead of the warm west coast, Mike and the team took their talents to the Windy City of Chicago. Nicely done, guys!

Next up we have,
Top Models by Panvelet

Seriously, the stars are shining this week. Panvelvet, who of course has won multiple AirVuz contests, as well as taking home a New York City Drone Film Festival trophy, was at it again with his most recent production. Flying high over the skyscrapers of Shanghai, he captures models on the tops of buildings and other structures. Just a mind blowing performance by everyone involved in this video!

Last but not least…
White Paris by michokhoury

Michokoury, who has been gaining steam in the FPV world, went back to his roots flying a mavic to capture a snow covered Paris, France. With high-up views of numerous famous landmarks, including the Eiffel Tower and Notre Dame, it really was a perfect winter flight over the City of Love! Keep up the amazing work, Michel!

So many amazing videos this week, by phenomenal Pilots, but it's that time to narrow this list of 5 down to one. On that note, this week's AirVuz Drone Video of the week goes to…

Top Models by Panvelvet
Honestly… models that are on top of some of the highest skyscrapers in shanghai, then added into a video produced by the award winning Panvelvet, just the perfect combo. The talent, the editing, the location… everything just fit perfectly. Congrats again to Panvelvet for taking home the $250 Drone Video of the Week, and now being eligible for the $500 Drone Video of the Month!

Annnnnd, while on the topic of monthly contests, we're putting a little twist into February's FPV Video of the Month. AirVuz is excited to be partnering with Beagle Drone for this month's contest! The winner will receive their brand new, Nova FPV drone! Along with many other features, the Nova has a built-in 4k 60fps camera, a flight time of 14 minutes, and is under 250 grams. All pilots who are selected in the weekly AirVuz Pilots to Watch during the month of February will be eligible!

Also, on the latest airvuz after hours myself along with co-host Paul Nurkkala, catch up with fellow Team AirVuz Piltos and FPV power couple, Nick Willard and Nicole merrick, or as the FPV world knows them as, Wild Willy and Harley Queen! Among many other topics, their journey of becoming pro fpv pilots, how they met, being roommates with Johnny FPV, and what it was like for both of them to move literally to the other side of the world. This episode is definitely one of the most entertaining ones yet!
9 days ago
381 VŪZ
16

6
Report
Description:
Hollister, Sean. "DJI's unannounced FPV drone is already the star of a complete unboxing video" The Verge, 14, Feb. 2021, https://www.theverge.com/circuitbreaker/2021/2/14/22282593/dji-fpv-drone-leaked-unboxing-video
Simmie, Scott. "FPV drones capture Red Bull's Natural Selection snowboarding event" Drone DJ, 9, Feb. 2021, https://dronedj.com/2021/02/09/fpv-drones-capture-red-bulls-natural-selection-snowboarding-event/