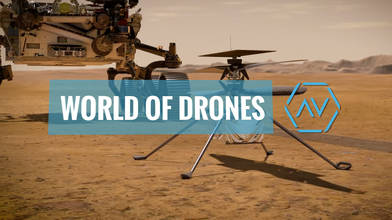 AirVūz News: World of Drones 02/22/21
Published 02/22/2021 06:46

The "World of Drones" is your weekly news resource on all things drone related.

A drone flight on Mars is scheduled for takeoff soon. NASA landed its Perseverance rover last week on Mars, and along with it was a helicopter drone called Ingenuity. While the mission of this Mars rover trip is to look for signs of life, Ingenuity has its own mission. The drone, designed in partnership with AeroVironment (AVAV) is solar-powered and equipped with two cameras, it also features a wireless communication system. Flying on Mars also has other challenges like air density and freezing temps, but NASA hopes Ingenuity and future helicopter drones will be able to help scout, carry payloads, and explore areas that are too dangerous for a rover to enter.

rone production company, EFYI Group, along with Tianjin University in China, set a Guinness World Record for the longest animation performed by unmanned aerial vehicles (UAVs) with a time of 26 minutes and 19 seconds. The drone show performance used 600 drones mapped into the night sky in northern China. The drones told the tory of Vincent Van Gogh's life and moved through vignettes of his most famous paintings. All 600 drones used were the Agile Bee II, which weighs around three pounds and can fly up to 20 miles per hour.

Now it's time to announce the Top 5 videos uploaded to AirVuz.com and name one our 'Drone Video of the Week.' In no particular order, here are this week's Top 5:

"REEL 2020| RG Drones e Movimentos" - RG Drones
Former 'Drone Video of the Week' finalist RG Drones is one of the top commercial drone filming companies in Brazil. In this impressive 2020 demo reel, they show off some highlights from their professional aerial videography work.

"São Tomé Island the lost gem." - ArturCarvalho
Former 'Drone Video of the Week' winner ArturCarvalho put together this incredible drone video of what he calls, "The best kept secret in the Atlantic Ocean, São Tomé island."

"Hornafjordur 2020 Drone Reel" - _mishamartin
New AirVuz contributor, _mishamartin, uploaded this excellent drone video full of breathtaking views from southeast Iceland.

"Cinematic Travel Footage - Dubai" - dronefate
Content creator dronefate shows off the capabilities of the DJI Mini 2 drone with this cinematic montage from Dubai in the UAE.

"Aerial Reel with Sky Candy Studios" - Jay Christensen
Friend of AirVuz, Jay Christensen, blew us all away again with his latest upload, an aerial reel collaboration with Sky Candy Studios and Rally Studios. From nighttime footage to landscapes and action sports, this video has it all!

And the 'Drone Video of the Week' and winner of the weekly $250 prize is… Jay Christensen with "Aerial Reel with Sky Candy Studios." Congratulations Jay and good luck in the 'Drone Video of the Month' contest.
2 days ago
90 VŪZ
13

8
Report