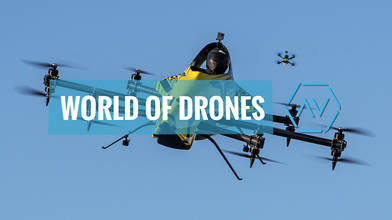 AirVūz News: World of Drones 02/24/20
Published 02/24/2020 09:07

Welcome to the World of Drones, your weekly drone news fix.

A Purdue University student may have found a way to provide internet to billions of people by using drones. It's called "Telelift" and it hovers drones the size of a dining table 200 feet in the air while attached to solar panels or a power source on the ground. Rahul Tiwari came up with this concept of a, "flying cellphone tower," and now his startup Spooky Action wants to deploy Telelift in areas of the world with poor internet coverage like Kenya, Botswana and Senegal. The drones cost around $40,000 and are fully automated except for takeoff and landing. They could hover for a month and provide high-speed internet over a 30 mile radius.

During the special drone show at the Taiwan Lantern Festival earlier this month, forty-eight drones fell from the sky soon after taking off due to electromagnetic interference. The show featured 800 drones creating images in the night sky. The team flying the drones believed the interference was due to other drones flying in the area. Some believe that local drone operators could have deliberately interfered with the drones frequency to protest the government's new drone regulations which are set to take effect in March. The Taichung City Scenic Area Administration said the drones that fell from the sky did not cause any injuries.

The world's first manned aerobatic drone was shown pulling off stunts like loops and rolls last week in Croatia. Built by Drone Champions AG, to promote its Drone Champions League video game, the, "Big Drone" is a full-sized, carbon airframe with six arms each with a pair of coaxial rotors. A central seat can carry a passenger, not the pilot. The video showing off all the extreme maneuvers had a dummy passenger on board. Later with a human on board, the drone did a simpler flight. Drone Champions founder and CEO, Herbert Weirather said, "We have developed and built the first-ever manned aerobatic drone with the vision to create a brand-new future racing experience and to recruit drone pilots through DCL – The Game."

The Top 5 Drone Videos uploaded to AirVuz.com last week are: dron-e.it with "Aerial Showreel - around Italy, Hungary, Thailand and Jordan," BvdB Productions "Slovenia by Drone," LYFTED MEDIA "2020 Aerial Reel!," samibyala "I miss home Infusen Mountains," Tom Rad "Around the world with my drone." And our Drone Video of the Week winner is Tom Rad with "Around the world with my drone"! Congratulations you're taking home $250 and automatically entered into our Drone Video of the Month contest where you could win an additional $500!

A lot of you have been asking about this year's Drone Video Awards, well next week on World of Drones we're going to be making a huge announcement so make sure to join us then.
over 1 year ago
574 VŪZ
20

6
Report
To watch the previous epidosde of World of Drones CLICK HERE
To learn more about the Drone Video of the Week CLICK HERE
To watch the Drone Video of the Week CLICK HERE
SOURCES:
Blain, Loz. "World's First Manned Aerobatic Drone Shown Pulling Loops and Rolls." New Atlas, 18 Feb. 2020, newatlas.com/aircraft/drone-champions-league-dcl-aerobatic-manned-drone/.
Reynolds, Emma. "Drones on a String Bring Internet to Remote Locations." CNN, Cable News Network, 19 Feb. 2020, www.cnn.com/2020/02/19/tech/tethered-drones-internet-africa-intl/index.html.
Shan, Shelley. "Drones Crash during Light Display at Lantern Festival." Taipei Times, 24 Feb. 2020, www.taipeitimes.com/News/taiwan/archives/2020/02/24/2003731529.