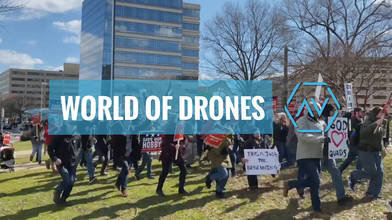 AirVūz News: World of Drones 03/02/20
Published 03/02/2020 09:24

We begin with a protest at the FAA Headquarters Many in the drone industry have heard, seen, and even voiced their opinions regarding the FAA's proposed Remote ID for Drones rule. Some of those Drone Pilots and Enthusiasts gathered at the FAA Headquarters in Washington DC to protest and express their concerns to the new rule. Michael Dahl, who, with his group "Help Save Our Hobby," played an instrumental part in the gathering and Protest. According to Dahl, these proposed Remote ID rules "will destroy access to the long tradition of hobby aviation as well as limit the ability for open research and development around these technologies."Dahl, and the "Help Save Our Hobby" group weren't the only recognizable faces that joined protest, Award winning actor Terrnace Howard made an appearance in support of the cause, as well as Chad Kapper and Drew Camden of Rotor Riot. "Today was historic. Hundreds of RC and FPV enthusiasts gathered in Washington DC to protest the FAA overreach in their proposed rules for drones. We must protect our hobby!" claimed Camden on through his Instagram account.

Now… To something on a much lighter note….A missing chameleon was found and rescued by a drone. Yes, you heard me right... Pete the chameleon, who was temporarily blind due to an eye infection, had gone missing from his enclosure. After searching around the area with a drone, his caretaker Vincent Kay spotted him. At that point he tied rope to the bottom of the drone which eventually Pete grabbed onto and was flown to safety. Seriously, this is a video you have to see to believe...

Over the years, AirVuz has been apart of some really neat projects, but this latest one may just possibly be our most exciting one yet! We're extremely happy to announce AirVuz and the New York City Drone Film Festival have come to an agreement for AirVuz to acquire the Film Festival. Beginning Saturday July 25th, the New York City Drone Film Festival will be a two-day event that will include the Award Show, a Day of Drones Expo and even some racing. One of the biggest changes will be the video submitting process. Any video uploaded to AirVuz from January 1st, 2019 through the end of the day, May 25th 2020 will be eligable. For more information on the NYCDFF Announcemant, head over to the AirVuz homepage!

Now, here in no particular order, are last week's top-5 videos uploaded to AirVuz.com. I AM VITAL by Florian Ledoux; Puerto Vallarta - Nature takes over by inigui; By the Bay | San Francisco, CA | Aerial & Timelapse 4K by FrameworkFilms; SEARCHING FOR SILENCE - BESKYDY FILM 2020 - 4K by sojkincz; Nomade Festival 2020 - Chile / Teaser Aerial by Neilo Neila

And the winner is…. I AM VITAL by Florian Ledoux!

In this jaw dropping film, Florian Ledoux, a world renowned photographer and past AirVuz Drone Video Award winner, used his best drone content from the earth's polar regions. He skillfully uses the backdrop of shrinking glaciers and melting icebergs to remind us how these eco-systems are being affected by global climate change. The video features unbelievable footage from Greenland, Antarctica, Northern Canada, the Svalbard Islands of Norway, and Iceland. Congrats again to Florian for taking home the $250 Prize and being named Drone Video of the Week. He is now eligible for February's Drone Video of the Month.

Also, congrats to all of the Pilots to Watch, who are now entered into the FPV Video of the month. Speaking of the monthly contests, February was another AMAZING month of flights and film here on AirVuz. Make sure to stay tuned to AirVuz later this week as Garrit Wes Anderson makes his selection for February's Drone Video of the Month, as well as HarleyQueen FPV making her selection for FPV Video of the Month.
over 1 year ago
280 VŪZ
15

9
Report