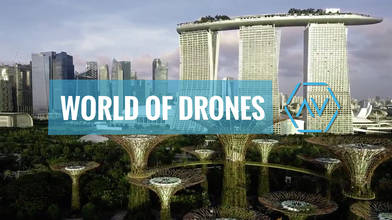 AirVūz News: World of Drones 03/09/20
AIRVŪZ STAFF NOTE :
It's time for "World of Drones," where you update you with the latest round of drone news from around the world. Let's get started.
An FPV video went viral in the mainstream world last week when pilot Ross Beck, who goes by Rosshasadrone, posted a video of his miniquad chasing a golf ball.

While we're used to seeing great FPV footage get its due in the drone community, Ross' video grabbed widespread attention for its uniqueness. The video, which was also uploaded to AirVuz.com, includes several shots of the FPV quad chasing a golf ball off the tee and following its flight all the way to the green. Non-drone outlets such as Golf.com and Bleacher Report picked up the story. We here at AirVuz applaud Ross for helping to bring FPV drones to a mainstream audience.
A man in Singapore is facing a hefty fine for flying his drone without a permit. 41-year-old Tay Miow Seng pled guilty in December to flying near an air base without a permit and for flying above the maximum allowed altitude.
Just last week, he was fined $9,000 in Singapore currency, which equates to over $6,000 US. Seng had also reportedly run into legal issues last March for flying his drone, which was taken into account when his fine was handed down.
The coronavirus continues to have a global economic impact, and the drone industry is certainly not immune to this. Drone manufacturer DJI, for example, temporarily closed its headquarters in Shenzhen, China.
Autel Robotics is hoping to avoid any major delays due to the virus. Autel, which is preparing to launch the Evo II drone, said on Facebook last week that it hopes the deployment of the drone will not be delayed due to the impact of the coronavirus. In the Facebook post, the company said: "With the unfortunate timing of the coronavirus outbreak, staffing at our assembly factory was affected, but we're happy to say production has now returned to normal."
Autel was planning to have the EVO II to customers at some point in March, and the company said they project the drone will indeed be available in the latter half of the month.
As we do every week on World of Drones, we bring you the top five videos uploaded to AirVuz.com over the last week. The top video will take home $250 and is eligible to win Drone Video of the Month. This week's top videos are:
—"This is Pakistan 4K Drone" by hamza_mujtaba.
—"Spring Holidays in Budapest" by vitaliy.karpovich
—"Bolivia by Motorbike and Drone | 4K" by expeditionsouth
—"Natural Mystic by Sam Favret" by maximemoulinfilm
—"My new showreel" by Flycam24
This week's Drone Video of the Week is: expeditionsouth for the film "Bolivia by Motorbike and Drone | 4K." This was the first upload to AirVuz from Alex Chacón, who used a DJI Mavic and a DJI Phantom 4 to capture footage throughout Bolivia. The most impressive part: many of the shots were taken while Alex was riding his Kawasaki motorcycle. He said he used one hand to steer the bike and one to fly the drone. Those multitasking skills earned him $250 as the weekly winner, and a shot at winning Drone Video of the Month.
And don't forget, submissions for the sixth annual New York City Drone Film Festival are free at AirVuz.com. So if you hope to have your work featured on the big screen in the Big Apple, be sure to upload to AirVuz.
about 1 year ago
413 VŪZ
17

5
Report
Description:
To watch the previous episode of "World of Drones" CLICK HERE
To see Rosshasadrone's full video on AirVuz CLICK HERE.
For more information about the sixth annual New York City Drone Film Festival CLICK HERE.
Sources: Low, Dominic. "$9,000 Fine for Man Who Flew Drone in Punggol Field without Permit." The Straits Times, 5 Mar. 2020, www.straitstimes.com/singapore/courts-crime/9000-fine-for-man-who-flew-drone-in-punggol-field-without-permit?fbclid=IwAR0ExKFaVVipGwLG6Tca3YmBcN_z4UmznqggJd3lbTtOvfQucX18o65ZZ3o.
Tang, Louisa. "Man Fined S$9,000 for Illegally Flying Drone near Paya Lebar Air Base." TODAYonline, www.todayonline.com/singapore/man-fined-s9000-illegally-flying-drone-near-paya-lebar-air-base.
Zak, Sean. "These Insanely Fast Drones Capture Golf Shots as You've Never Seen Them." Golf, 4 Mar. 2020, www.golf.com/news/2020/03/04/racing-drone-golf-shots/.