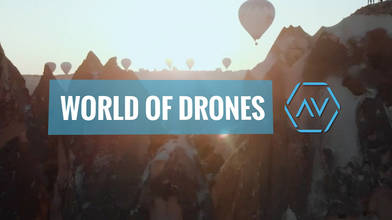 AirVūz News: World of Drones 03/22/21
Published 03/22/2021 07:18

The 'World of Drones' is brought to you by AirVūz News. It is a weekly news show for all things drone related.

A township in Michigan has ruled a drone to be in violation of a couple's privacy. The case in question was filed back in 2018 against the township in Grand Traverse County Circuit Court when Todd and Heather Maxon argued that aerial photos taken of their property without a search warrant should be thrown out. The couple claimed that the photos of their backyard were an invasion of privacy and a violation of the Fourth Amendment. Just last week a Michigan Court of Appeals panel ruled 2-1 that the drone photos violated the Maxon's, QUOTE "reasonable expectation of privacy," and moving forward a search warrant must be obtained before taking photos of private property.

A man was arrested in Simi Valley, California for allegedly flying a drone with a bag of heroin attached to it. John Piani was operating the drone and taken into custody on Friday for suspicion of selling heroin and meth via the drone. Simi Valley Police Department posted a pic of the DJI Mavic on their Instagram page. The investigation is ongoing.

Now it's time to announce the Top 5 drone videos uploaded to AirVuz.com last week and name one our 'Drone Video of the Week.'

Melbourne Sunset to Dusk 4K - Gizmo Drones. Aerial videographer Gizmo Drones flew his Autel Evo 2 Pro on the last day of summer in Melbourne, Australia. Watch as the sun sets on the famous landmarks in this coastal city.

LOCKDOWN (feels like) | Riga, Latvija - Jurgis Kreilis / FilmDay. Top AirVuz contributor Jurgis Kreilis / FilmDay captured Riga, Latvia a year after the World Health Organization declared a COVID-19 pandemic. Not fully in lockdown, the capital of Latvia still looks eerily quiet from the skies.

One Month in Turkey - andrii_lutsyk. Former 'Drone Video of the Week' finalist andrii_lutsyk spent one month in Turkey filming everything from the spectacular mosques of Istanbul on the west to snowy Kackar mountains on the east, the green coasts on the north to the blue waters of the Mediterranean Sea on the south.

Beautiful Fuerteventura - 2019 - on.the.level. This is the second upload to AirVuz by content creator on.the.level and the second 'Drone Video of the Week' nomination they have received as well. This film captures the beauty of Fuerteventura in the Canary Islands.

Huasteca Potosinia - The Magic of Mexico - msember. Former 'Drone Video of the Week' winner msember spent 5 days in the Huasteca region of Mexico flying a drone and filming the adventurous activities available here, like zip lining, bike ziplining, river rafting and hiking.

And the 'Drone Video of the Week' and winner of the $250 prize is… andrii_lutsyk with "One Month in Turkey." For winning our weekly contest, he not only wins the cash prize, but he will also be prompted to AirVuz's 1.3 million followers, and his video will automatically be entered into the 'Drone Video of the Month' contest where it could win additional cash or prizes.

Watch 'World of Drones' every Monday on AirVuz.com
27 days ago
215 VŪZ
14

7
Report
Description:
To watch the previous episode of "World of Drones" CLICK HERE
To learn more about our Drone Video Contests CLICK HERE
To watch the 'Drone Video of the Week' CLICK HERE
SOURCES:
LeBlanc, Beth. "Township Violated Michigan Couple's Privacy by Using Drone, Court Says." The Detroit News, The Detroit News, 19 Mar. 2021, www.detroitnews.com/story/news/local/michigan/2021/03/19/appellate-court-says-township-violated-michigan-couple-privacy-drone-photos/4764083001/.
Wigglesworth, Alex. "Man Arrested after Drone Found with a Bag of Heroin on Board, Simi Valley Police Say." Los Angeles Times, Los Angeles Times, 21 Mar. 2021, www.latimes.com/california/story/2021-03-21/man-arrested-drone-heroin-simi-valley-police.