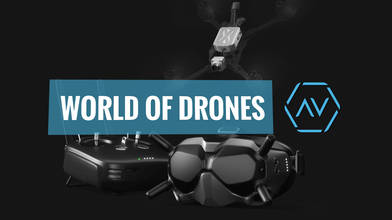 AirVūz News: World of Drones 03/29/21
Published 03/29/2021 06:42

Hi everyone, I'm Jacob Blaeser with AirVuz, and welcome back to THE World of Drones. Your weekly update for everything drone related. Let's get to it!
We begin with the volcano eruptions in Iceland, and the mesmerizing drone footage coming from the land of fire and ice. Over the past week on AIRVUZ, we've seen both incredible traditional drone video, as well as mind blowing FPV content. Longtime AirVuz creator snorrithor was the first to share his on the site, with some wonderful dji mavic footage, then the crew from Iceland Aerials followed that up with some fantastic FPV footage. Content like this once again proves why Iceland is a drone pilot's paradise.
Now to some craziness in the FPV-world, late last week DJI announced that the will be halting the production of their popular DJI FPV system, including the air unit. The announcement put the FPV community in a frenzy as pilots were loading up on as many air units as they could, and now nearly everyone is sold out. While the rumors seem to be true that Dji is stopping the manufacturing of the air units, there are talks of them working with a third-party to begin producing them again later this spring.
From some crazy drone news to some crazy awesome videos, here in no particular order are the top 5 videos uploaded to AirVuz last week.

Geldingadalur Volcano Eruption by snorrithor

Last week's Volcanic eruption in Iceland set the internet on fire. Amazing videos like this one from snorrithor were the reason so many eyes around the world saw the wonders happening at the Reykjanes Peninsula and surrounding area.

Winter Kiev in 4K Artistic shooting by drone by smakozawr
Whenever a flight from Kiev is shared on AirVuz, we know we are going to get some incredible views from the capital of Ukraine. This video by smakozawr proved that point once again, but with an added touch of winter. The snowy, cloudy shots are absolutely remarkable.

What is Turkey in 30 Seconds by jesus_tr
Exactly what the title says for this one. Capture Turkey in 30 second in this super cool drone edit from jesus_tr. From the landscapes to the landmarks, this quick but highly entertaining aerial tour shows some of the best Turkey has to offer!

Istanbul. Love of the continents by timelab.pro
Speaking of Turkey, this latest production from Timelab.pro is absolutely jaw dropping. The flying, the editing, the footage just a all-around phenomenal drone production. Just when we think we've seen the best Timelab.pro has to offer, they create magic like this one!

Winter 2021 Cinematic drone footage by Mauro Sciambi
Pure excellence, that's exactly what comes to mind when we see these outstanding shots from Mauro Sciambi. Whether you're a fan of the top down nature shots, or a cinematic flight through the city, edits like this are what make true cinematic drone videos so wonderful!

Now…. drumroll please… This week's Drone Video of the Week goes to… Timelab.pro with their video Istanbul. Love of the continents
Let's be real for a second… we've seen timelab pro's videos win numerous awards around the world, but this production from Istanbul may just very well be their best yet. Congrats for all of the continued success and taking home another Drone Video of the Week. This video is now eligible for the March Video of the Month!

Now, to the FPV side of the world... epicness doesn't even begin to portray the amazingness we saw in last week's Pilots to Watch. From the flights over an eruption volcano to a matrix-style FPV reel. You do not want to miss these flights! All which are now eligible for the FPV Video of the Month!
3 months ago
171 VŪZ
15

6
Report