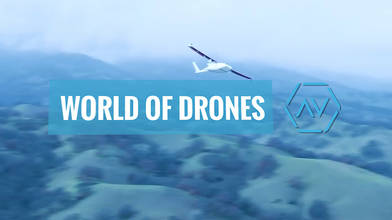 AirVūz News: World of Drones 06/29/20
Published 06/29/2020 06:46

AirVuz News is here to give you updates on what's going on in the World of Drones.

It's, "The drone you've been waiting for."
Software company, Skydio, announced last week that it's popular and super smart Skydio 2 Drone is coming back. Along with the announcement is the news that there will be a significant software update. One of the most requested features, an extended tracking distance, now lets drone pilots track subjects up to 20 meters, previously it was 10. That's when flying with your phone as a controller, if you're using the Skydio Beacon you can track up to 40 meters. The Beacon also now allows operators to use GPS to find their subject when they are hovering. Other notable additions to the Skydio 2 include an all new, best-in-class camera, the drone's ability to land autonomously on its case by recognizing the Skydio logo, the nudge feature and new mode control options. You can reserve the Skydio 2 Drone right now for $1,000 on Skydio's website.

Now, more news of Drones for Good. Zipline, the company known for its drone deliveries in Ghana and Rwanda, is now making headlines for using drones to drop PPE and COVID-19 test samples to medical facilities. The San Francisco company partnered with Novant Health, a non-profit healthcare system in North Carolina, to use long-range drones that drop packages from the sky with tiny parachutes on them to providers. Zipline has a special waiver from the FAA allowing them to fly a couple round-trip routes from a designated fulfillment center. Zipline and Novant Health are hoping to deliver PPE to 30 facilities in the area as new routes are approved by the FAA.

Looking to make a career out of flying drones? The United States Air Force is facing a shortage of UAV pilots and sensor operators needed to fly its remotely piloted aircrafts, according to the Government Accountability Office. Since September 11th, the military has increasingly become reliant on drones for intelligence, surveillance and reconnaissance purposes. In 2019 the Air Force was authorized to have 1,652 RPA pilots, but was 20 percent short of that. Air Force leaders are worried they won't be able to retain their current drone operators because of the unrelenting pace of operations, lack of career advancement opportunities and not being able to compete with what private contractors can pay. New steps are now being taken to improve aircrew support in the hopes of increasing staff.

It's time to announce the top 5 videos uploaded to AirVuz.com last week:
"THIS IS MY ALASKA" by Drone_Alaska, "Sur by DronDuilio" by @DronDuilio, "Myanmar" by DigitalTravelCouple, "Journey to Dagestan" by DiamondSky, and "The North Coast" by elstevedore. And the Drone Video of the Week and the winner of the $250 prize is DiamondSky with "Journey to Dagestan." DiamondSky has been nominated for Drone Video of the Week multiple times and is a former Drone Video of the Month Winner. Their latest film features breathtaking views of Dagestan in southern Russia. This drone video will be the last entry into the Drone Video of the Month contest for June.

Speaking of Drone Video of Month, the winner of that contest and the $500 prize will be announced Wednesday on AirVuz.com. Don't forget that this month we partnered with insta360 to give away an insta360 R Twin Edition to the June FPV Video of the Month. The winner of that will be selected by FPV pilot @drew.drones and will be announced Thursday on AirVuz.com.
10 months ago
407 VŪZ
20

8
Report
Description:
To watch the previous episode of "World of Drones" CLICK HERE
To order the Skydio 2 Drone CLICK HERE
To learn more about the Drone Video Contests CLICK HERE
SOURCES:
Hall, Zac. "Skydio 2 Drone Returns to Market as Major Update Extends Subject Tracking Range and More." DroneDJ, 26 June 2020, dronedj.com/2020/06/25/skydio-2-availability-extended-tracking-range/.
Losey, Stephen. "Air Force Doesn't Have Enough Drone Pilots or Sensor Operators, GAO Says." Air Force Times, Air Force Times, 29 June 2020, www.airforcetimes.com/news/your-air-force/2020/06/26/air-force-doesnt-have-enough-drone-pilots-or-sensor-operators-gao-says/.
Meisenzahl, Mary. "These Drones Drop PPE and COVID-19 Test Samples to Medical Facilities Using Tiny Parachutes - Here's How It Works." Business Insider, Business Insider, 27 June 2020, www.businessinsider.com/zipline-drones-deliver-masks-for-coronavirus-doctors-2020-6.
Roston, Brittany A. "Skydio Returns with One of Its Most Requested Drone Features." SlashGear, SlashGear, 26 June 2020, www.slashgear.com/skydio-returns-with-one-of-its-most-requested-drone-features-25626504/.