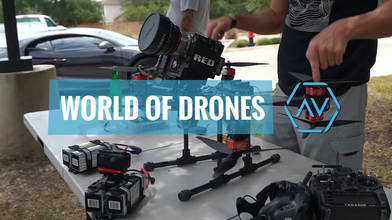 AirVūz News: World of Drones 07/27/20
Published 07/27/2020 07:44

We begin with somewhat disturbing news regarding drone-industry giant DJI...


According to reports, the China-based company's DJI Go 4 Android app, which is used for controlling drones such as the popular Mavic and Phantom series, has recently been secretly collecting sensitive user data, which can then be downloaded by the developers.

In DJI's response to these allegations, they claimed that the features and components detailed in the reports either served legitimate purposes or were unilaterally removed and weren't used maliciously. They go on to say "We design our systems so DJI customers have full control over how or whether to share their photos, videos and flight logs, and we support the creation of industry standards for drone data security that will provide protection and confidence for all drone users."

The Google play store shows that the DJI Go 4 app has been downloaded over one million times, but due to how google discloses numbers, the real number of downloads could be around 5 million.


Team AirVuz Pilot Nurkfpv takes FPV Cinematography to a new level.The future of aerial cinematography is evolving by the day, and these latest projects from Paul Nurkkala are proof.Last week, while on a shoot for Catalyst Machineworks, Nurk had the opportunity to fly a Red Digital Cinema EPIC camera on an FPV drone totalling around 30 pounds with the Camera, which CM has coined the Money Shot. They didn't just test out this $20,000 drone and Red cam, Nurk and CM went all out on a project with Rally Ready in Texas. After flying around their facility, Nurk then chased a 4 million dollar Bugatti! Oh and that wasn't all, after that shoot went so well, he decided to test the drone's limits a little more by LEGALLY diving an 18-story building in Houston. "I think we have to start pushing the limits of what's possible and start challenging the status quo of how FPV drones are used" said Nurkkala.The New York City Drone Film Festival is still happening, and you still have time to upload your drone videos to AirVuz.com! If you haven't heard, this year's festival will be held the weekend of October 24-25 and is going to be a completely digital drone experience. Any video uploaded to AirVuz.com between January 1st, 2019 and August 8th 2020 will be eligible. That deadline is coming up fast, so get your drone videos uploaded to AirVuz ASAP!Stay tuned to AirVuz in the coming weeks as we'll be announcing judges, nominees, special guests, ticket information and more info on the Digital Day of Drones.


While on the topic of great drone videos, here in no particular order are the top-5 videos uploaded to AirVuz last week!

Unlocking Rome by Mauro Pagliai

Breathing Planet. By Capchure.ch

MELHORES IMAGENS DE MIAMI | RG Drones e Movimentos by RG Drones

Raw Beauty of Colorado Mountains by HAYDEN KAST

ABOVE THE FOG - Lago Di Braies Italy by msember

And the winner is….

Unlocking Rome by Mauro Pagliai!

AirVuz fan-favorite Mauro Pagliai once again shows us why he's one of the top drone content creators on the planet. In this production, full of incredible top-down views and hyperlapses, Mauro takes us on a breathtaking day and night aerial tour of Rome with glimpses of some of the capital city's most recognizable landmarks. Congrats again to Mauro on being named the Drone video of the week and taking home the $250 prize. This video is now eligible for the July Drone Video of the Month.

And on the FPV side… WOW… What another amazing week of Pilots to Watch! All who are now eligible for the July Drone Video of the Month which will be selected by Team AirVuz Pilot Phluxyfpv and the winner will receive a BetaFPV 95X.

One more thing… Make sure to catch the latest AirVuz After Hours episode where fellow World of Drones host Tyler Mason and I catch up with one of the best female drone content creators in the world, and Women Who Drone ambassador Sandrine Hecq.
about 1 year ago
154 VŪZ
16

10
Report