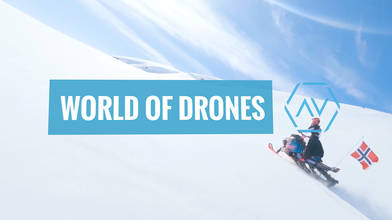 AirVūz News: World of Drones 08/19/19
Published 08/19/2019 09:06

Welcome to the World of Drones, your weekly update on all things drone related. Let's get started. It looks like there's been more leaked footage of a potential new DJI drone. This time of a DJI Mavic Mini that could revolutionize camera drones. The leaked video shows that the mini drone is no larger than a human hand and is rumored to be just 245 grams, which is significant because that means it's 5 grams under DJI's self-imposed weight limit of 250 grams, which is what DJI's VP for Policy and Legal Affairs allegedly said is the "magic number" when it comes to drone size and preventing incidents. While the Mavic 2 Pro+ and the Mavic 2 Zoom+ are set to be released sometime in 2020, drone experts speculate that we could see the Mavic Mini later this year. A drone pilot in Michigan captured the moment a cliff collapsed barely missing a group of kayakers. The paddlers were touring Pictured Rocks National Lakeshore in northern Michigan when a large section of a cliff ,which stands about 200 feet above the water, collapsed suddenly in Lake Superior. Nature photographers Jon Smithers and Craig Blacklock were on a boat nearby and turned the drone as soon as they heard a sound. They were able to capture the moment a massive section of the cliff plummeted into the water. One of the kayak tour guides reported that the collapse missed them by about 50 feet and that everyone was safe. A drone raced an ambulance and the drone won. Researchers from Iraq and Australia did four test runs where a DJI Phantom 3 Pro raced against a human-driven ambulance to see which could get first aid supplies to patients faster. They raced from a hospital in a busy Iraqi city to crowded neighborhoods near schools and markets with narrow streets to see how long it would take to deliver a first aid kit. The results showed that delivering supplies via drone is almost 31% faster, which could be critical in an emergency. This week we go Behind the Goggles to learn about French FPV Pilot Benoit Finck aka Fincky. Hear all about how he was able to turn FPV into his full-time career on the episode posting to AirVuz.com on Wednesday. Have a drone video? Upload to AirVuz.com for your chance to win money! Every week we give away $250 in our Drone Video of the Week contest. Check back tomorrow to find out who this week's winner is. Tune in next week for more drone news.
over 2 years ago
197 VŪZ
19

5
Report
To watch the previous episode of "World of Drones" CLICK HERE
To watch Behind the Goggles CLICK HERE
To see Fincky's profile CLICK HERE
To learn about our Drone Video of the Week contests CLICK HERE
SOURCES:
Associated Press. "WATCH: Lake Superior Cliff Collapse Narrowly Misses Kayakers." KARE, KARE, 14 Aug. 2019, www.kare11.com/mobile/article/sports/outdoors/watch-lake-superior-cliff-collapse-narrowly-misses-kayakers/89-e4d8f41c-5492-4286-989f-1e4a29468da1.
Carey, Louise. "Leaked Video of DJI Mavic Mini Shows a Potentially Revolutionary Camera Drone." Digitalcameraworld, Digital Camera World, 16 Aug. 2019, www.digitalcameraworld.com/news/leaked-video-of-dji-mavic-mini-shows-a-potentially-revolutionary-camera-drone.
Lekach, Sasha. "Race against an Ambulance Shows How Drones Could Speed up Medical Care." Mashable, Mashable, 18 Aug. 2019, mashable.com/article/drone-ambulance-medical-supplies-race/.