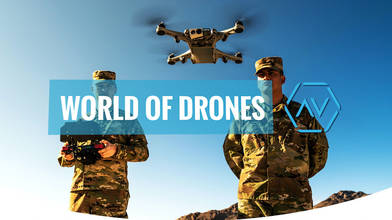 AirVūz News: World of Drones 08/24/20
AIRVŪZ STAFF NOTE :
We've shared many stories over the past several months about drones being used to help fight the COVID pandemic. Now Australia is using the aerial technology to hopefully curtail the virus.

Police in Melbourne will be utilizing drones to find people who aren't following the country's mask mandate, as well as cars that travel too far from home. They'll also be used to ensure that public places such as skate parks and playgrounds are empty. Anyone caught not wearing a mask or breaking curfew could face a hefty fine.
The United States government unveiled a list last week of five drone manufacturers that are allowed for military use. Notably not among the five is Chinese drone manufacturer DJI.

The U.S. DoD's Defense Innovation Unit did approve five other company's drones to be used by the military. Those five are the Skydio X2-D, the Parrot Anafi, the Altavian M440 Ion, the Golden Eagle from Teal Drones, and Vantage Robotics' Vesper drone.

These drones have all been tested and vetted by the U.S. government over the past 18 months prior to last week's announcement.
Speaking of the U.S. military, an investigation by the military underway to determine what happened last Sunday when Air Force One came close to being hit by an object believed to be a drone.

The incident occurred when President Trump's airplane was landing at Joint Base Andrews near Washington D.C. One witness said they "saw a thing with a kind of X shape and part of it was yellow."
Tickets for this year's New York City Drone Film Festival will be going on sale soon. This year's festival will be an all-digital experience and will take place October 24-25. Stay tuned to both the AirVuz and NYCDFF social media channels for upcoming information on ticket sales.
As we do every week on the World of Drones, we feature the top five videos uploaded to AirVuz.com in the last week, and we also give away $250 for the Drone Video of the Week. Without further ado, here are the top five from the past week:
— "Rovinj Croatia 4k" by mares traveling
— "Venice - Italy" by Alta Movie srl
— "Flight over Russia" by DiamondSky
— "THE CLIFFS | SEVEN SISTERS | ENGLAND" by Drone Eye Perspective
— "Teotihuacan - The City of The Gods" by Postandfly
And this week's Drone Video of the Week winner is...Postandfly for his video "Teotihuacan - The City of The Gods." Drone pilot Tarsicio Sanudo, a former Drone Video of the Week and Drone Video of the Month winner, brings home the weekly prize yet again with his film that showcases Mexico's ancient city of Teotihuacan. Tarsicio said this was a location he's been wanting to fly his drone at for years, and he finally got the opportunity. Now he's $250 richer and is eligible to win our Drone Video of the Month for August.
Finally, don't forget to check out the latest episode of "AirVuz After Hours" featuring world traveler Wes Anderson, aka iDrone Aerials. He joins co-hosts Jacob Blaeser and Tyler Mason to talk about his world travels and what it's like to fly a drone in amazing locations all around the globe.
over 1 year ago
241 VŪZ
12

9
Report
To see last week's World of Drones CLICK HERE To watch the "AirVuz After Hours" episode featuring Wes Anderson CLICK HERE For more information on the New York City Drone Film Festival CLICK HERE SOURCES Hollister, Sean. "The US Government Grounded DJI - but Here Are the Five Drones It Just Approved." The Verge, The Verge, 20 Aug. 2020, www.theverge.com/2020/8/20/21376917/drone-us-government-approved-dod-diu-uas-blue-china. Klein, Betsy, and Barbara Starr. "US Military Investigating Report of Possible Drone Flying Close to Air Force One." CNN, Cable News Network, 19 Aug. 2020, www.cnn.com/2020/08/18/politics/possible-drone-air-force-one-investigate/index.html. Stonor, Chris. "Covid-19 Melbourne: Authorities to Deploy Surveillance Drones to Catch People Not Wearing Masks." Urban Air Mobility News, 19 Aug. 2020, www.urbanairmobilitynews.com/first-responders/covid-19-melbourne-authorities-to-deploy-surveillance-drones-to-catch-people-not-wearing-masks/?utm_source=rss.