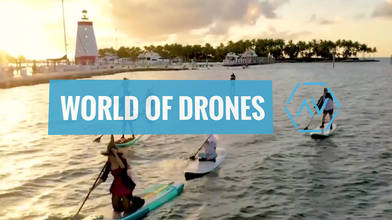 AirVūz News: World of Drones 10/21/19
Published 10/21/2019 07:49

World of Drones is your weekly drone update brought to you by the team at AirVuz News.

A drone played a big role in helping to rescue a 6-year-old boy in Minnesota who was lost for more than 10 hours when he wandered off to play with his dog after getting off the school bus. Despite hundreds of volunteers helping local law enforcement try to find the young boy named Ethan, it was drone pilot Steve Fines who ultimately spotted the boy in a corn field.

Fines used a DJI Matrice 210 with a thermal camera that allowed him to see a bright spot in the field that indicated it might be Ethan and his dog. Fines, the owner of Fines Aerial Imaging LLC, hovered his drone in the vicinity of the boy as volunteers ran toward it to bring the boy to safety.

Fines told the Minneapolis Star Tribune: "It was a moment that was going to make his parents so happy, and vicariously we all felt that." A sheriff involved in the search efforts told the Star Tribune: "If not for that drone, I'm not sure we would have found him."

Utah senator Mike Lee introduced a bill last week that would greatly change the drone landscape in the United States. Lee's bill would give states, cities and Native American tribes the authority to regulate low-altitude drone flights, meaning flights under 200 feet in elevation.

The bill would also give property owners control of the first 200 feet of airspace above their property. The FAA would have jurisdiction of all drone flights above 200 feet.

In a press release, Lee said, "The FAA cannot feasibly or efficiently oversee millions of drones in every locality throughout the country." Drone manufacturer DJI said Lee's bill would only complicate things by "throttling an industry still in its infancy."

With Halloween approaching, we thought we'd share this drone video of paddleboarders in Florida who got into the holiday spirit a bit early. The Miami Herald posted the video that shows paddleboarders in the Florida Keys dressed up as witches as they celebrated the full moon. While we've seen plenty of Halloween-related videos here at AirVuz, this was a new one for us.

If you use Amazon Fire TV, you can now see hundreds of amazing drone videos on your television. We here at AirVuz are proud to bring you Drone TV, now available on Amazon Fire. With Drone TV, you can browse through curated collections of videos, get travel inspiration, witness fast-paced FPV racing and more. You can download the app at the link in the description.

Also, don't forget that all drone pilots are eligible to win our weekly $250 prize for our Drone Video of the Week contest. Simply upload your content to AirVuz.com for a chance to be selected as a finalist. We'll announce this week's winner on Tuesday.
about 2 years ago
189 VŪZ
20

6
Report
Description: To watch the previous episode of World of Drones CLICK HERE
To learn more about our Drone Contests CLICK HERE
To download Drone TV on Amazon Fire CLICK HERE.
SOURCES:
Associated Press. "Minnesota Boy, 6, Found Safe in Dark Cornfield after Search." Star Tribune, Star Tribune, 16 Oct. 2019, www.startribune.com/minnesota-boy-6-goes-missing-after-getting-off-school-bus/563183262/.
Austin, Jennifer. "Photographer Uses Drone, Thermal Camera to Help Find Missing 6-Year-Old." KARE 11, 16 Oct. 2019, www.kare11.com/article/news/local/photographer-uses-drone-thermal-camera-to-find-missing-boy/89-f6744354-5017-424b-b013-1f079957eee0.
Baker, Clairissa. "'No Stopping Our Local Community:' How a Missing 6-Year-Old Boy Was Found Safe." St. Cloud Times, St. Cloud Times, 17 Oct. 2019, www.sctimes.com/story/news/local/2019/10/16/st-cloud-drone-pilot-helps-find-missing-6-year-old-boy-cornfield/3998085002/.
Cordero, Christiane. "Ethan Haus, 6, Found Safe After Going Missing For Nearly 10 Hours Near Becker." WCCO | CBS Minnesota, WCCO | CBS Minnesota, 16 Oct. 2019, minnesota.cbslocal.com/2019/10/16/6-year-old-boy-found-safe-after-going-missing-for-nearly-10-hours-near-becker/.
Florida Keys News Service. "Drone Video of Witches on the Water in Florida Keys." Miamiherald, Miami Herald, www.miamiherald.com/latest-news/article236212588.html.
Waddell, Kaveh. "Under New Bill, States and Towns Could Set Their Own Drone Rules." Axios, 15 Oct. 2019, www.axios.com/drone-bill-mike-lee-states-local-government-62c4b2c5-557b-4a5a-9af0-fc86042428d1.html.