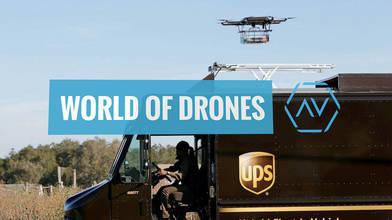 AirVūz News: World of Drones 11/11/19
Updated 11/11/2019 11:17

It's almost that time of year again, Black Friday will soon be upon us here in the US, and online to the rest of world.

With TV's once again dominating the leaked and released ads - as seen on blackfriday.com - there will also be some great deals on DJI drones and drone accessories. The Mavic 2 Pro will be priced at $1379 - a savings of of $350; or the Mavic 2 can be combined with the DJI Smart Controller for $1779, which is $400 off the original $2199. The drone giant will also be doing a black friday and holiday promotion on the new DJI Osmo Action which you'll be able to buy for $279, compared to the original $379.

These DJI Black Friday deals will be offered on the DJI official online store from November 24, 2019 to December 4, 2019; with the holiday promo prices running from December 13, 2019 through January 1, 2020.

You can now add prescriptions on the list of items to be delivered via drone thanks to CVS Pharmacy.

The largest pharmacy chain in the United States partnered with UPS to complete the first ever "commercial drone delivery of prescription in the US." The two flights were from a CVS store in Cary, North Carolina to a private home, as well as a retirement center. The drones flew autonomously, but were monitored by human pilots the whole time.

Ben Galash, VP of Advanced Technology Group with UPS, said this partnership "could be a real life-changing event, especially for elderly or sick people who cannot leave their home to go pick up a prescription from a store."

A Georgia drone pilot has been sentenced to four years in prison on a contraband charge.

Eric Lee Brown, of Lithonia plead guilty to one count of operating an aircraft eligible for registration knowing that the aircraft is not registered to facilitate a controlled substance offense. The drone pilot admitted in his signed plea agreement that he attempted to use his sUAS to drop a bag of marijuana into Autry State Prison in the city of Pelham.

After reports of a vehicle impeding the flow of traffic near the prison, Brown was found in his car nearby with 294 grams of marijuana and an unregistered DJI Phantom 4. He also failed to provide a valid FAA or Remote Pilot Certificate. Mitchell County Sheriff W.E. Bozeman said, "The smuggling of drugs into the state prison is an ongoing battle. It is good that we can prosecute these kinds of cases at the federal level and put an end to this kind of activity."

Don't forget to catch our behind-the-scenes access of the Drone Racing League event at Allianz Field in our latest AirVuz News. Find out what all goes into a race, and hear from some of the best racing drone pilots in the world.

Have a drone video? Upload it to AirVuz.com for your chance to win money! Every week we give away $250 in our Drone Video of the Week contest. Check back tomorrow to find out who this week's winner is.
about 2 years ago
232 VŪZ
20

10
Report