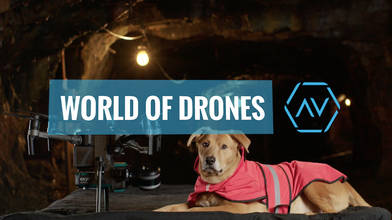 AirVūz News: World of Drones 11/16/20
Published 11/16/2020 08:21

Welcome to the World of Drones. Your weekly news resource on all things drone related.

The 84th Masters Tournament took place over the weekend, and while there were no fans at the Augusta National Golf club, there were drones. CBS Sports provided two drones to get, "sweeping aerial views never before seen during live Masters telecasts," said the Golf Club's Chairman Fred T. Ridley. No word on if drones will be used at the next Masters in April, but fans watching from home sure did appreciate the new views.

We've got another drone show to talk about! It seems to be becoming a weekly occurrence on the World of Drones, but this one is a Guinness World Record breaker! The show was put on by Shenzhen Damoda Intelligent Technology Control Company LTD and it featured 3,051 drones. The purpose of the show? To beat the previous drone show record of 2066 drones performing at once.

A drone that a dog can fly? Philadelphia-based Exyn Technologies released this video of cute pup Kody tapping a touchscreen to operate a drone. The new ExynAero drone takes total autonomy to a new level by being designed to fly in challenging environments where GPS may not be available, like mines. The drone's smart control system known as ExynAI allows it to generate a real-time map of its surroundings. This is another example of drones being designed to carry out missions too dangerous for humans.

Sony is entering the drone game. We don't know much at this point other than the brand will be called AirPeak. According to the press release AirPeak will be in the field of AI Robotics and will, quote "support the creativity of video creators to the fullest extent possible." The project is set to launch in the Spring of 2021.

Now it's time to announce the Top 5 drone videos uploaded to AirVuz.com last week: "Show Reel 2020" by GTDRONE

New AirVuz contributor GTDRONE uploaded this stunning reel showing a great mix of landscape and action shots from all across Poland. "El Chico - DJI MINI 2" by postandfly

Award-winning AirVuz contributor Postandfly was able to test out the brand new DJI Mini 2 before it was released to the public and decided to show off it's amazing cinematic capabilities at the National Park of Mineral El Chico in Mexico. "Vietnam from above" by hoancv. This was the first upload to AirVuz by contributor hoancv and it showcases unbelievable aerial footage of his home country of Vietnam. "Norway from the sky" by svilen12. Another brand new contributor to AirVuz svilen12, this video features beautiful drone views of the island of Moskenesøya, the southernmost of the Lofoten Islands. "Showreel 2020" by Aerial_Greece

Filmed with a Mavic 2 Zoom, this creative edit is full of remarkable shots from across Greece. And the one being selected as Drone Video of the Week and winning the $250 is "Show Reel 2020" by GTDRONE! Congratulations! Not only do you win $250, but you will be promoted all week long on AirVuz and your video is now entered into the Drone Video of the Month contest for November where it could win an additional $500.

Get your drone news every Monday on AirVuz.com
9 months ago
885 VŪZ
23

8
Report
Description:
To watch the previous episode of "World of Drones" CLICK HERE
To learn more about Exyn Technologies CLICK HERE
To learn more about the Sony AirPeak CLICK HERE
To learn more about our Drone Video Contests CLICK HERE
SOURCES:
Coldewey, Devin. "Sony Prepares to Enter the Drone Game with Airpeak." TechCrunch, TechCrunch, 10 Nov. 2020, techcrunch.com/2020/11/09/sony-prepares-to-enter-the-drone-game-with-airpeak/.
Hambling, David. "Why This Cute Video Of A Dog Operating A Drone Is A Big Deal." Forbes, Forbes Magazine, 2 Nov. 2020, www.forbes.com/sites/davidhambling/2020/11/02/why-video-of-dog-operating-drone-is-a-big-deal/?sh=7b68c32246ac.
Kluciani. "Masters: Drones at Augusta National Delivering Never-before-Seen Shots." 2020 Masters, 14 Nov. 2020, www.augusta.com/masters/story/news/2020-11-13/masters-drones-augusta-national-delivering-never-seen-shots.
MacQuarrie, David. "Drones Bring Masterful Shots to the Masters." DroneDJ, 15 Nov. 2020, dronedj.com/2020/11/14/drones-masterful-shots-masters/.