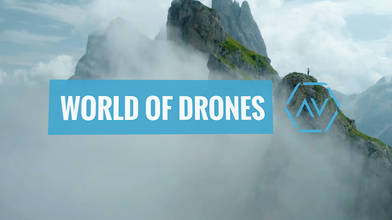 AirVūz News: World of Drones 11/18/19
Published 11/18/2019 07:28

Welcome to the World of Drones. Your weekly news fix on all things drone related. Let's get to your drone headlines.

As many as 800 drones flew in tight formation and perfect synchronization to form glowing planes in the night sky at the closing ceremony of the 2019 Nanchang Flight Convention. Visitors eyes were up in the skies as the drones formed a propeller plane, a passenger airliner and a military fighter jet. Footage shows the drones which were equipped with large lamps reflecting over the water. This exhibition shows off China's latest developments in aviation and drone technologies.

Drone manufacturer DJI announced it is working on technology that would allow anyone with a smartphone to get information on the drones flying near them. The tracking technology would be made available via a free app in 2020, pending regulatory approval. DJI says the app would work within a 1-kilometer range and over wifi only. A person using the app will be able to identify a nearby drone's ID number, location, altitude, speed and direction. This news comes amid a push for data transparency in the drone industry.

The inaugural Boston Drone Film Festival took place over the weekend and many drone pilots in the AirVuz community were nominated. A few familiar names even took home some wins. Congratulations to Bashir Abu Shakra a repeat winner in our Drone Video of the Week contests for winning the Landscape category. Congrats to Noel Thomas, another AirVuz Drone Video of the Week winner for taking home the Urban Category and FPV Pilots Lukasz Lewenda and Benoit Finck for winning the Cinematic FPV and Freestyle FPV categories.

The DRL announced a big update on Twitter last week. They are lowering the age requirement to enter the 2020 DRL Allianz World Championship Season to 16. Which means this year's winner of the 2019 MultiGP Championship, Evan Turner aka HeadsUpFPV has secured a spot in the DRL.

Every Tuesday we give away $250 in our Drone Video of the Week contest. Check back to AirVuz.com to see who the winner is! Also, check back next week for another episode of the World of Drones.
over 1 year ago
549 VŪZ
21

8
Report