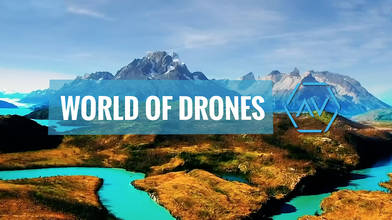 AirVūz News: World of Drones 12/21/20
Published 12/21/2020 09:22

Hi everyone, I'm Jacob Blaeser with AirVuz, and welcome back to THE World of Drones. Your weekly update for everything drone related. Let's get to it!

Another week, another new DJI product hitting the market.
That's right, the industry giant just announced that there will be an addition to the Mavic family, the Mavic 2 enterprise advanced. The original Mavic 2 enterprise, which was released two years ago, was a popular drone with law enforcement, firefighters, search and rescue teams and other first responders, and now the specs are even more advanced. This drone will be equipped with a 32x zoom camera and a DJI produced thermal sensor. The Mavic 2 Enterprise Advanced can be pre-ordered now and will begin shipping in early 2021.

Now, from encouraging DJI news to potentially discouraging DJI news.
Last week, the US Government added the Chinese Drone company to it's Entity List, and blacklisted DJI from exporting drones from china. According to the US Department of Commerce one of the main reasons that DJI was added to the black list was for "enabl[ing] wide-scale human rights abuses within China through abusive genetic collection and analysis or high-technology surveillance"In response, DJI issued a statement saying, "DJI is disappointed in the U.S. Department of Commerce's decision. Customers in America can continue to buy and use DJI products normally."

Ok, so we've heard about drone pilots being fined from the FAA, but this latest one could just very well be the largest yet. According to Forbes, a drone pilot was fined $182,000 by the FAA for violating multiple regulations in the Philadelphia area from December 2019 to August 2020. And by multiple regulations… try 26. That's right 26 rules and regulations violated by this drone pilot. What began as just warnings, turned into fines very quickly as the pilot continued violating the same thing over and over. From flying over people to flying at night without a night waiver, the list of violations just goes on and on. So, the moral of the story… just fly smart, people.

Now, how about some drone videos of the week! Here in no particular order are the top 5 videos uploaded to AirVuz last week!

First we have,
Precious Planet by Johnny Copter
New contributor Johnny Copter with an unbelievable first AirVuz upload. In this reel, with footage spanning over four continents, Johnny flies above mountains, deserts, waterfalls and so much more. It is definitely one you won't want to miss.

Next up we have,
Our best drone shots 2020 Scotland in 4K by AirView Scotland.
The title pretty much sums this one up, just some truly spectacular shots over Scotland. From castle ruins to beaches and cliffs back to more castle ruins, this video really shows the best of Scotland from the sky!

Next,
Rawalpindi In 3 Minutes by Oculus Films
In this latest video from Oculus films they share some excellent footage from a location we don't see a ton of drone content from. And, The views are absolutely incredible. Just a really neat travel video from Rawalpindi, Pakistan.

Next up...
LADAKH INDIA: A Himalayan Motorcycle Adventure by Alex Chacon
Now this one is cool! AirVuz contributor Alex Chacon takes us all on his motorcycle journey through the Ladakh region in northern India. Not only is a neat story, but the drone clips were phenomenal as well!

Last but not least...
INDONESIA by kevinmichaeltravel
Bali, Indonesia, one of those places that seems to be on everyone's bucket list, and this latest video from kevinmichaeltravel reminds us all why. The beauty of bali is tough to beat, and seeing it from the sky is even more stunning. Another great video from kevinmichaeltravel.

And now the moment you've been waiting for. The Drone Video of the Week goes to….

Precious Planet by Johnny Copter.

Not a bad week for Johnny. First upload to AirVuz, first Drone Video of the Week honors. And deservingly so. Like I mentioned earlier, Johnny spanned 4 continents capturing this remarkable footage, and then created this masterpiece of a showreel. Now, I can't wait to see what he'll put together once he visits the other 3 continents. Congrats again for taking home the Drone Video of the week, and now being eligible for the December Drone Video of the Month.
Also, while on the topic of top videos, last week's Pilots to Watch were so good! We even had Tom Jauncey of Beautiful Destinations capture his first AirVuz Pilots to Watch honors. Congrats to him and all of the pilots to watch who are now eligible for the FPV Video of the Month.
Annnnnd. Make sure to catch the new AirVuz After Hours episode where myself and Paul Nurkkala aka nurkfpv, chat with High Performance FPV drone pilot rosshasadrone. We talk with him about everything from his famous FPV golf ball chase to flying Red Cams on drones. Hear about that and much more on the latest episode.
Ok folks, I think that about covers it, we hope you enjoyed these stories, stay safe and we'll see u next week on World of Drones!
9 months ago
161 VŪZ
21

12
Report
Simmie, Scott. "DJI releases new Mavic 2 Enterprise Advanced" TechRadar, 15, Dec. 2020, https://dronedj.com/2020/12/15/dji-releases-new-mavic-2-enterprise-advanced/
Heater, Brian. "DJI says products will remain on sale after being added to US 'entity list'" Tech Crunch, 19, Dec. 2020, https://techcrunch.com/2020/12/19/dji-says-products-will-remain-on-sale-after-being-added-to-us-entity-list/
Rupprecht, Johnathan. "FAA Slaps Drone Pilot With $182,000 Proposed Fine" Forbes, 17, Dec. 2020, https://www.forbes.com/sites/jonathanrupprecht/2020/12/17/drone-pilot-received-182000-proposed-fine/?sh=2cd41afb2fe0