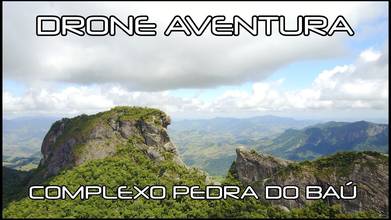 DRONE AVENTURA - COMPLEXO PEDRA DO BAU
almost 4 years ago
1.0k VŪZ
20

16
Report
Description: Gostou do video? Deixa um like e se inscreva no canal no youtube :)


Esse vídeo foi gravado em fevereiro de 2017.

Entre várias coisas que me proporcionam extrema felicidade na vida, duas delas é conquistar o cume de uma montanha, mesmo que já tenha estado lá em algum momento, além de produzir os meus próprios vídeos e me emocionar com os mesmos.

Nesta segunda parte eu destaco a subida pela Face Norte da Pedra do Baú.

Atualmente, a Face Sul está interditada devido a um deslizamento que ocorreu. Portanto, a subida e a descida tem que ser obrigatoriamente pela Face Norte.

O Complexo do Baú é um importante conjunto de rochas gnaissicas localizado no município de São Bento do Sapucaí, estado de São Paulo, Brasil.

O ponto culminante é a Pedra do Baú (altitude de 1950 metros] e com paredes de aproximadamente 400 metros), famoso por abrigar algumas das mais importantes rotas de escalada esportiva e também de longa duração (conhecidas como big walls). É formado pelo Bauzinho, Pedra do Baú e Ana Chata.

Fonte: Wikipedia.

Para parcerias e contatos profissionais, enviar e-mail para droneaventura@gmail.com

Instagram: @droneaventura

© 2017 Drone Aventura / Felipe Lombardi - Todos os direitos reservados.


Did you like the video? Leave a like and subscribe to the Youtube channel :)


This video was recorded in February 2017.

Among several things that give me extreme happiness in life, two of them is to conquer the summit of a mountain, even if I have been there at some point, and to produce my own videos and to be moved by them.

In this second part I highlight the ascent by the North Face of the Stone of the Chest.

Currently, the South Face is interdicted due to a slip that occurred. Therefore, the ascent and descent must be obligatorily by the North Face.

The Baú Complex is an important set of gneiss rocks located in the municipality of São Bento do Sapucaí, state of São Paulo, Brazil.

The culminating point is the Pedra do Baú (altitude of 1950 meters) and walls of approximately 400 meters), famous for sheltering some of the most important sports climbing routes and also of long duration (known as big walls). It is formed by Bauzinho, Pedra do Baú and Ana Chata.

Source: Wikipedia.

For professional partnerships and contacts, send an email to droneaventura@gmail.com


Instagram: @droneaventura

© 2017 Drone Aventura / Felipe Lombardi - All rights reserved.