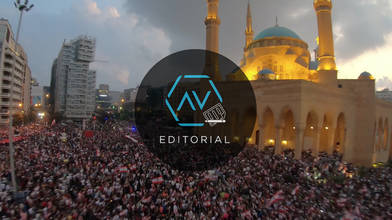 Drone Captures Lebanon Protests from Above
Published 10/24/2019 08:12

A drone video recently uploaded to AirVuz.com shows a different perspective of the protests in Lebanon. For almost a week, millions of people have taken to the streets across the city in protest. Drone pilot Manuelbass (aka mrfpv) was in Beirut flying over the historic moments with his 5 inch FPV racing drone.

The protests began after the government proposed a new monthly tax for Whatsapp users. Locals are saying that this was just the tipping point after decades of government corruption and economic hardships. The normally divided public ditched their party flags to unify under the Lebanese flag.

Covering Martyrs' Square, the protests resemble a large carnival of festivities. The drone captured people waving flags and chanting in solidarity. The government took notice and responded with a bunch of changes, including no new taxes. Instead of the protests ending, the people have remained in the streets to demand prime minister Saad Hariri resign.

So far the protests have remained peaceful. These are the largest demonstrations the country has seen since 2005 when Syria had a military presence in Lebanon.
almost 3 years ago
476 VŪZ
17

5
Report
To watch the full video by MrFpv | manuelbass CLICK HERE
To see more drone videos of Lebanon CLICK HERE
To watch more Dynamic FPV videos CLICK HERE
To see more drone videos for Good Causes CLICK HERE
Sources:
Karam | AP, Bassem Mroue and Zeina. "Lebanese Revolt against Their Leaders in Rare Sign of Unity." The Washington Post, WP Company, 20 Oct. 2019, www.washingtonpost.com/world/middle_east/lebanon-braces-for-massive-anti-government-protests/2019/10/20/2d50fba6-f31f-11e9-b2d2-1f37c9d82dbb_story.html.
Lerche, Alexander. "In Pictures: In Beirut, a Revolution in Unity over Corruption." | Al Jazeera, Al Jazeera, 23 Oct. 2019, www.aljazeera.com/indepth/inpictures/pictures-beirut-revolution-unity-corruption-191023072113692.html.
"Protesters Demand Resignation of Lebanon's Political Elite - CNN Video." CNN, Cable News Network, 23 Oct. 2019, www.cnn.com/videos/world/2019/10/23/lebanon-beirut-protests-reform-whatsapp-tax-civil-society-saad-hariri-wedeman-intl-vpx.cnn/video/playlists/around-the-world/.
Wamsley, Laurel. "Protesters Continue To Fill Streets Of Lebanon, United By Their Calls For Change." NPR, NPR, 22 Oct. 2019, www.npr.org/2019/10/22/772312235/protestors-continue-to-fill-streets-of-lebanon-united-by-their-calls-for-change.