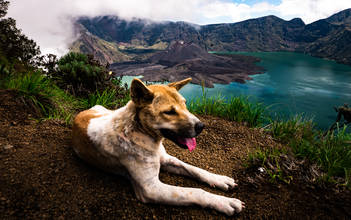 Mount Rinjani Volcano, Lombok
AIRVŪZ STAFF NOTE :
Content creator and pilot MIAPVIDEOS created this stunning drone video of a volcano on Indonesia's Lombok island. Mount Rinjani is situated in the north central part of the island, which is part of the West Nusa Tenggara province. With an altitude of 3.7k meters (12.2k ft.), it's one of the highest mountains in the country. One of the distinguishing features of the area is the crater lake Segara Anak, which was formed by the eruption in the 13th century of the neighboring volcano called Samalas.
almost 4 years ago
883 VŪZ
14

12
Report
Just couple of days after the New Year, during the rainy season and with almost no sign of any tourist. We decided to climb up a volcano in Indonesia, hoping to see its beauty. Judging, before the trek by the time of day, we were almost sure we would not see anything. The fact that it rained every day did not build up any confidence in us and made us more likely to be soaking wet. The Earthquake, which had occurred during the summer, left its visible devastation around the whole island of Lombok and one could feel how small and fragile we are and how merciless nature can sometimes be. It was quite easy to find a local guide who would take us up and down the same day, even thought it is not a usual request from tourists. Since the earthquake, many of the local guides are struggling for work and tourist accommodation is still rebuilding. We started the trek very early, but not early enough to warrant head-lamps, to reach the top for sunrise, which is quite common for this type of the trek. Still being kind of wet from the previous day, we did not torture ourselves and yet, with the vision of that we might not see anything at all ,we tried to appreciate a walk through the jungle itself. Right from the start two local dogs seemed to chosen us and along the way fought through with other dogs to establish their dominant position as our animal guide. All this of course, because of our snacks, which we kept in our bags and they knew very well, that they are hidden there and when the time its right they might get some. All they had to do is to stick with us and protect our belongings. Going through the abandoned camp village and first entrance to its National Park made us feel like returning to Jurassic Park after the animals took over. No sign of any tourists or any people whatsoever, everything seemed somehow half-broken and falling apart. At almost every rest-spot we felt the presence of the earthquake and it looked like whatever man created there had been torn apart and destroyed. After we decided to actually stop and reach for our snacks we had found ourselves surrounded by not very friendly monkeys very quickly and we were surprised how many they showed up out of bushes and trees. Luckily our dogs actually started to chase the monkeys out away from us and more importantly away from their potential food. And of course they were rewarded, they knew that the benefits of incoming tourists is much greater for their survival they would get something better than down in the village among local people and other dogs. Since then, no other monkey dared to climb down from the tree and touch the ground, the dogs were on guard and made sure that our bags were protected. Walking three hours after our first snack and with five more hours ahead of us, made us think it would suck, not to see just a few seconds of the view at the volcano. It's like the feeling of hope when I sometimes buy a ticket to the lottery hoping to be the lucky one and when the day comes to check the lucky numbers, they are not just there!!! This exact feeling I had climbing up hoping to be the lucky one and in the back of my head, I felt the disappointment and I kept telling my self that it's ok, life is beautiful and this walk, by itself, is something I don't do everyday and is vey much worth it. But, I still prayed! We actually met two French tourists about half way in who were returning down along with their guides. After chatting with them the hope of seeing the volcano completely disappeared. They were actually all the way on the summit camping there for few days and they told us that it was completely foggy, rainy, windy and quite cold there. Because, I carried a drone in my backpack, the information about high wind was absolutely disappointing-I wont be able even fly my bird . Still, life goes on and we have to move on. Reaching the edge of the volcano after eight hours walk was somehow challenging but I would not say too difficult. When we reached the final stop on our destination and milky clouds floated around its peak we could still feel the magnificence of the Mount Rinjani volcano. I think my prayers were heard and about ten minutes after the reaching the viewpoint, the wind blew the clouds off of the summit and we got to see the volcano with its all beauty. One of the most magnificent views I have ever seen in my life. Along with disappearing clouds sun came out and the wind calmed down. I was able to bring my bird into the air and get few lucky shots. Realising that two out of my three batteries malfunctioned due to moist from the rain and the improper storing in my bag just reminded me that I have to enjoy the moment instead of just trying to capture it. Yes, that special day I did finally win my lottery ticket and I get that feeling to be the lucky one….