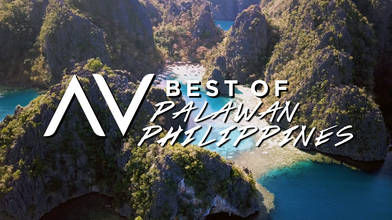 Palawan Philippines From Above
Updated 12/15/2019 09:12

The Province of Palawan in the western Philippines always ranks near the top of "The World's Best Islands" list. The province includes Palawan Island (the westernmost of the country's main islands) and roughly 1780 smaller islands and islets that surround it, including the famed northern island of Coron. This compilation features some of the top sights in this tropical paradie, including the capital city, Puerto Princesa; Kayangan Lake in Coron; the crater Barracuda Lake, the famed beach area known as El Nido; and more.
over 2 years ago
499 VŪZ
17

5
Report
To view the the Drone Videos of Palawan, Philippines collection CLICK HERE
List of videos used in this aerial compilation:
Coron, Palawan Aerial Reel - url_eleven
☆☆The Beautiful Philippines PALAWAN, EL NIDO !! PARADISE PART 3 ☆☆ - Travel Lifestyle
Coron/Palawan The Best Island in the World - @goodmango
Palawan: Shot on EVO - Autel Robotics
Coron [ I ] - Droneland 2019 - Droneland
Palawan, Philippines - 4K Drone Film - JackShirley
Philippines - Coron: Kayangan Bay - Travel Imagez
Philippines - Coron: Barracuda Lake - Travel Imagez
Coron [ II ] - Droneland 2019 - Droneland
Coron, Palawan, Philippines - jj_maghirang
El Nido and Puerto Princesa, Palawan - dronesantana007
Paraw Sailing in El Nido, Palawan - Vincent.Hurdequint
Palawan: El Nido, Coron, Port Barton, Balabac - enoksen89
Philippines Magic Drone Video - Laurent Paris


SOURCES:
"7 Amazing Things to Do in Palawan, the Philippines." TripSavvy, www.tripsavvy.com/things-to-do-in-palawan-the-philippines-4158068.
"Palawan." Wikipedia, Wikimedia Foundation, 23 Apr. 2019, en.wikipedia.org/wiki/Palawan.
"What Makes Palawan the World's Best Island?" Travel + Leisure, www.travelandleisure.com/worlds-best/palawan-best-island.