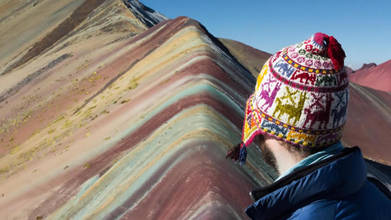 Rainbow Rainbow, Peru Via AB Expeditions
AIRVŪZ STAFF NOTE : Follow along this 2 day hike as AB Expeditions takes us on an aerial tour of landscapes like no other! The Rainbow Mountains in Peru are seriously one of a kind.
about 5 years ago
24.1k VŪZ
82

48
Report
One of the most magnificent geologic features in the world is the Rainbow Mountain of the Peruvian Andes. The mountain is striped with colors ranging from turquoise to lavender to maroon and gold. The reason we see the rainbow coloration in the stratigraphic layers of the Rainbow mountain is largely due to weathering and mineralogy. Red coloration of sedimentary layers often indicates iron oxide rust as a trace mineral. Similar to how a nail will rust and turn red when oxidized, sediments that are iron rich will change when exposed to oxygen and water. This, in combination with uplift and tectonically driven crustal shortening has tilted the sedimentary layers on their side exposing stripped stratigraphic intervals. The different coloration is due to different environmental conditions and mineralogy when the sediment was originally deposited and subsequently diagenetically altered. Introduction of goethite or oxidized limonite will introduce a brownish coloration to sandstones. The bright yellow coloration could be due to iron sulphide as trace minerals within the pore cement. In addition, chlorite will often color sediments varying shades of green dependent on diagenetic history and concentration. NOTE: If you would like to take a day trip to the Rainbow Mountain or a multi day trek on the Ausangate visit http://www.abexpeditions.com for more information or email info@abexpeditions.com to book a tour. You are now able to get to this amazing place on a day trip from Cusco, Peru. Have fun!