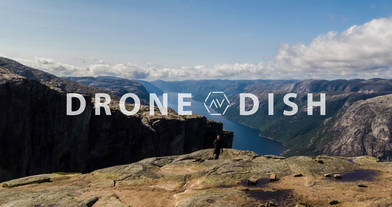 The Drone Dish: Grim Berge
AIRVŪZ STAFF NOTE :
In this segment of Drone Dish, host Tyler Mason catches up with Grim Berge, one of the top aerial videographers in Europe. Hailing from Norway, he was nominated for the Drone Video Awards in each of its first two seasons, "Summer is Coming" for the first and "Discover Norway: A 100 Day Journey" for the second. Having started flying back in 2012 with custom-made drones, Grim is a wealth of aerial filming knowledge, and his work has been featured in numerous TV shows, movies, and commercials.
over 5 years ago
1.6k VŪZ
33

10
Report
In this episode of The Drone Dish, our host Tyler Mason chats with Norwegian director and drone pilot Grim Berge. Grim is a talented pilot who flew and directed projects all around the world, including his recent Discover Norway - A 100 days journey - our Drone Video of the Month for May! You can see the episode that features him by following this link - www.airvuz.com/dronevideoofthemonth-may In this interview, Grim talks about his past and future projects with his company and how they got involved in flying drones. He'll give you the inside scoop on what goes into making films like last year's Drone Video of the Year nominee "Summer is Coming - a tribute to travellers." Watch that full video HERE. You can see more of Grim's Berge's work in these travel destinations collections: Norway Drone Videos The Best Drone Videos of Scandinavia His work is also featured in this collection that showcases contributors with top notch cinematography and editing skills: Best Dronelapse Videos Thanks for chatting with us, Grim! Check back here for more interviews with some of the world's best drone pilots. VIDEO TRANSCRIPT: Tyler Mason: Joining us from his hometown right now, Grim Berge. Grim, thanks for joining the Drone Dish today. Grim Berge: Thanks for that. It's an honor. Tyler Mason: Well, we're glad to have you. Now, one of your videos recently won our drone video of the week contest. It featured Norway, 100 days journey. Tell me about that project, because I know a lot of time, a lot of work went into that. What was the idea behind that film? Grim Berge: For Discover Norway, we actually traveled through all of Norway, from the very most southern point to the very most northern point, so that's what you see in the video. Tyler Mason: I know obviously, 100 days, a lot of filming went into this, a lot of different locations, a lot of shots. Do you have anything from that film that is your favorite shot that you guys captured? A favorite place that you've seen maybe? Grim Berge: The greatest discovery I did on this trip was probably an area, the Sunnmore Alps, which is a mountain range in Norway, which is maybe the most beautiful mountain landscape I've seen anywhere. Tyler Mason: You mentioned your company NaturalLiight. When did drones become an important part of the film making that you do for that and just in general for you, when did you start using drones? Grim Berge: We started really early using drones and it's actually one of the success factors for what we're doing has been drones because we started back in 2012 and we worked with a company that actually, back then, built drones from scratch. Tyler Mason: I know in the Discover Norway project, you worked with Thomas Elliott of Tilt], who we've gotten to know a little bit here in our interviews. He was a guest on The Drone Dish a while back. There's a lot of other talented Norwegian pilots as well. What is it about that community over there in Norway for drone creators and pilots that just seems to be a lot of talent coming out of there? Grim Berge: It's in the working genes, right? It's been amazing to work with these talented people and I don't have a complete explanation for why there are so many great people here, but I think we have an incredible country in terms of nature, in terms of scenery and I think it's a place where you can find people who are really interested in a certain way of doing things. Tyler Mason: Well Grim, I've enjoyed chatting with you. That you for coming to us all the way from Bergen and beautiful backdrop too. One of the best we've had on The Drone Dish. Keep up the great work and we look forward to seeing more from you. Grim Berge: Thank you and can I add one thing before you close the session? Grim Berge: So, we are working on projects all over the world and we gonna be working on projects all over the world and I work most as director. Sometimes, I fly, but we work with local pilots all over the world, so if there are any certified pilots from, for example, Thailand, Philippines, where we're gonna film soon, or from China, just send us a message and we might be working together. Tyler Mason: Awesome. Yeah, we'll try to connect people with you. That'd be great. Tyler Mason: Well, like I said, Grim, the work you do is awesome, so keep it up and best of luck. Grim Berge: Thanks for that.