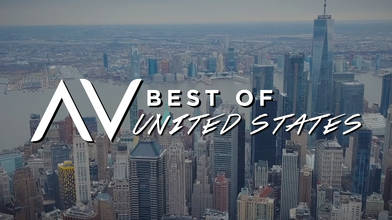 The United States from Above
Published 12/25/2018 09:28

In this aerial compilation of the United States of America created by the editorial team at AirVūz, viewers will see the best aerial footage from around this diverse country. Being the third largest country in the world, there are plenty of places for aerial cinematographers to fly their drones. States featured in the curated collection of drone videos include California, Hawaii, New York, Florida, Texas, and more. Fly over skyscrapers, waterfalls, mountains, beaches, glaciers and lakes in these aerial films.
about 3 years ago
765 VŪZ
23

4
Report
The United States of America is the third largest country in the world by population and land area, which means there are tons of people with drones and plenty of places to explore with drones. AirVuz.com created and edited an aerial compilation of the best aerial views from around the USA. Sit back and enjoy seeing the diverse landscapes that make up this vast country.

Occupying the majority of the west coast, California stretches 900 miles and contains beaches, forests, mountains and valleys. On the opposite side of the country on the border between the United States and Canada, Niagara Falls is one of the most famous waterfalls in the world. Oregon in the Pacific Northwest is a place full of wonder! See the Painted Hills, Mt. Hood, the Columbia River Gorge, Smith Rock and more. New England in the northeast territory of the united states is known for its fall foliage. The lush forests in Vermont showcase this beautifully. Alaska is the largest state in the USA and it is divided into 5 regions. From exploring the wilderness to taking an expedition on a glacier, any experience you want can be found in the Last Frontier State. Hawaii is the only state made up of an archipelago of islands in the USA. A popular vacation destination, plan on having fun on the water and in the sun.
New York City is the most populated city in the country. Enormous skyscrapers cover this metropolis. The rocky mountains and numerous ski resorts make Colorado an ideal place to visit in the winter and summer. Feel the tropical climate and beach vibes in South Florida. Known as "America's Heartland," the Midwest has cities of all sizes and an abundant amount of lakes. The South is a region made up of many states and cultures - like the city of New Orleans on the Mississippi River. "Everything is bigger in Texas" is sentiment shared by this gigantic southern state and the aerial views prove it! Experience the best aerial views of the US through this compliation and collection of drone videos.
SOURCES: