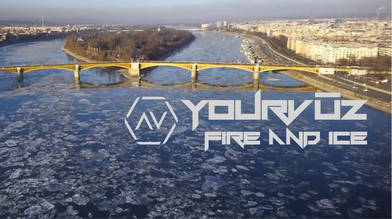 YourVūz: Fire and Ice
over 4 years ago
1.9k VŪZ
24

8
Report
YourVūz Fire and Ice is here! Once again Rusty and Allie are thrilled to feature some unbelievable AirVūz user uploads that were submitted to this month's topic. Fireworks, fiery skies, pond hockey, glaciers and ah... Rusty giving Allie a music lesson?!?! And, as usual, $500 is given away to the winner!

Do you want a chance to win $500? Watch the episode and hear what we want to see next from your view! Then, upload your aerial drone video and use the keyword yourvuz and the special episode keyword given at the end of the show! Be creative! Show us something we have never seen!

Want to watch the full length featured videos?

From The Woods To The City - Helidron media
Spring Is Coming! - Joel Wignall Media
Drone Flight Through A Glacier - dronealps
I See Fire! - skybounddrones
Torquay Regatta Fireworks 2016 - ccaerialsolutions
Friday Fireworks At The Hilton Hawaiian Village - Aerial_hi_way_productions
Ice Fishing - BobT
New Jersey Pond Hockey - AlphaAerialMedia
Snow Drift On Frozen Lake - Alyzzer
Sunset: Phantom 3 Standard Footage - SethDFilms
Fiery Skies - Queen of the Drone
Pere Marquette, Muskgon Michigan - AST Visuals
Frozen Lake At Sunset - SkySpirit
Fraser River Ice Flow - eppicphotos
"Awaken" Iceland - mikebishop.tv

To watch past episodes or our weekly show TopVūz, click here.

To see more amazing, breathtaking aerial views, visit AirVūz.com. VIDEO TRANSCRIPT: Allie: Thanks once again for checking out YourVuz. Speaker 2: Now if you are new to the program, we give you a challenge topic. You shoot that topic with your drones. We pick out our favorites. Somebody wins $500 cash. We wanna see these topics from your views. Allie: Clever name. Speaker 2: Yeah thank you. Allie: Now this episode's challenge [00:00:30] topic was fire and ice. Speaker 2: Fire and ice. Allie: And what better place to highlight that at least half of that than the St. Paul winter carnival? Speaker 2: It's the coolest celebration on earth. Incredible ice sculptures, ice skating and it brings everybody together in St. Paul because we live in this inhabitable climate. Allie: That's so true. But since we are in the land of ice and snow, we may as well check out some beautiful winter landscapes. Speaker 2: [00:01:30] I love in that last video, there's a dude at a glacier who's topless. Allie: Yeah he might want to put a shirt on. Speaker 2: I know, people tell me that all the time when I have my shirt off too. Allie: Yeah that's probably not for the same reason. Speaker 2: Bet you're right. Allie: Okay so what's next? Speaker 2: [00:02:00] Alright so we've seen some ice now let's get out of the frying pan and into the fire. Allie: Oh what does that mean? Speaker 2: Out of the frying pan and into the fire, it's like a bad situation to worse. It's an old idiom. Allie: Um ... You're an old idiom. You [00:02:30] know [00:03:00] that fire was cool but I'm ready for some more ice ice baby. Speaker 2: You know I bet everybody you submitted was really under pressure to impress us. Allie: What are you talking about? Speaker 2: (singing) Allie: Ice ice- Speaker 2: No no no, then there's no pickup beat, it's totally different okay? Just watch these. (singing) Allie: Ice, ice- Speaker 2: No. (singing) [00:04:00] Hey you know what else is an impressive fire? Allie: What? Speaker 2: The sun. Allie: Yeah. Speaker 2: It's a massive incandescent [00:04:30] gas, a gigantic nuclear furnace. These videos highlighted that. Speaker 2: [00:05:00] So you know how sometimes I say like hey we asked you guys to send in these videos and you did not disappoint. Allie: Yeah you say it like every time. Speaker 2: Well I actually mean it this time. Allie: So you've never meant it all the other episodes that you've said it? Speaker 2: Not really, no. I was just trying [00:05:30] to be nice, build up their ego. Allie: Okay well that definitely was kind of mean. You're not wrong though. This episode features some of the best submissions we have ever received. (singing) Speaker 2: [00:06:30] Just stop. It's collaborate. Listen. Mike Bishop wins this episode as he brings us awake in Iceland. Speaker 3: Let's [00:07:00] suppose you were able every night to dream any dream you wanted to dream. Allie: And tomorrow Mike will awaken $500 richer. Speaker 2: So we're here in Rice Park. I don't know if you know this. I actually got engaged here. Allie: No way. Speaker 2: Yeah yeah. When I was in love. Allie: You were in love? Speaker 2: Still in love. Allie: Okay. Well do you know what I would love? Speaker 2: I bet you would love for me to tell you the [00:07:30] story of how I proposed. Allie: Close. It's very close. I would love to leave so I'm going to go. Catch you later big guy. This was fun. Speaker 2: Well I would love to give everybody the topic for next episode. Love. Let's just do that. So go ahead and send us things that you love. Get those videos uploaded by February 22nd using the keywords love and YourVuz. Who knows? You might be featured on our next episode and maybe even win $500 [00:08:00] cash. We would love to see what you love next time on YourVuz. Hey Allie I rode with you.