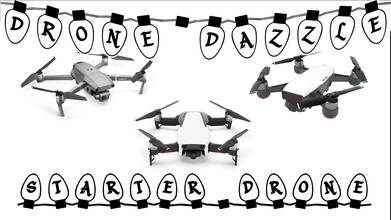 AV News: DroneDazzle - Starter Drone
Published 11/21/2018 04:38

Dronedazzle is your flying and buying guide this holiday season. On this episode we've spoken with the experts to find the best drones for beginners.

Jay Worsley of DMC recommends the DJI Mavic & Spark.

Elena Buenrostro of Women Who Drone says the $100 Tello is the perfect drone to get someone off the ground since it's so easy to fly and inexpensive.
almost 3 years ago
559 VŪZ
14

6
Report
For Part 3 of this season's Dronedazzle, we're chatting with the experts to find the best starter drones on the market. Jay Worsley is an award-winning aerial cinematographer and Founder of the online aerial filming tutorial series Drone Master Class. His three picks are all DJI products, but that's because he thinks they're the best consumer drones on the market. "In the end I think it depends on what the person is doing. If they're getting into it for wanting to get into photography or film-making I feel like there is not better drone on the market than the DJI Mavic 2 Pro. It's just a killer drone; it's a little pricier than a normal starter drone, but there's so many great features with it. It's so hard not to take good footage with that drone," he said. "Something that's more for a hobbyist, someone that's not getting licensed by the FAA for the 107, I would probably say more like the Mavic Air. You can get it for a little cheaper like for under $1,000. There are some limitations with it, which could be a good thing for someone who's a starter with drones. And the image quality is a little better than the Mavic 1. If that's even still a little out of the price range. The Spark is just a fun little drone, it's like this big. It's tiny, but it's really fun. I use it with my kids, it's really fun and it's really safe. The image quality isn't amazing but it works for people who are droning just to drone and not trying to profit off of it," he said. The Mavic 2 Pro, Mavic Air, and Spark sell for around $1500, $800 and $400 respectively. Elena Buenrostro, CEO and Founder of Women Who Drone, had one more even cheaper drone in mind. Plus, some advice for women trying get their daughters interested in flight, "I would say if she flies drones, I don't know if she flies drones - the Tello, just teaching her daughter how to fly the Tello and doing it with her could be the first step…because they're super easy drones to fly and it's kind of like a stepping stone." The Tello retails for just under $100; the Tello EDU – programmed for educational uses as well as flying – is $129 If you hurry, DJI is holding its annual Black Friday Sale where you can grab deals on each of the DJI products listed in this story. Jay is also holding a Black Friday deal for his Drone Master Class. Use the promo code 'airvuz' via THIS LINK. The DMC sale will run the Wednesday before Thanksgiving through Cyber Monday. Tune in next week to hear about the best products for getting started with FPV.