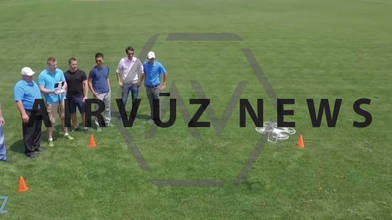 AV News: Georgia High School is First to Offer Drone Classes
almost 5 years ago
376 VŪZ
7

3
Report
Description: Here at AirVūz News, we've told you about how drones are entering the college curriculum. Now there's a high school in Georgia teaching students the ins and outs of drones. Our Tyler Mason has the story.
Science and technology have long been taught in high schools throughout the United States. But Putnam County High School in Georgia claims it's the first to offer an advanced drone course.
John Granich is the instructor of the three­ semester class. He had to train pilots for the drone company he was starting and reached out to Putnam County with the idea of teaching a drone course to high school students.
"Most of them have some skills to operate them, so really what I'm teaching them is how to get into the FAA, how to operate in the airspace. That's where my experience is from."
Granich is familiar with flying from his time in the Navy. He also has a background in electronics. His drone course has 15 students, including 14 seniors.
The class is far more than just learning how to fly the drones. The students do spend 20 hours on a flight simulator, but they learn all the tools needed to effectively use drones in a variety of ways.
(7:18­7:42)
"We actually get into how drones are constructed and how their payloads are set up. For example, you won't find a drone class that actually spends a whole 10 hours on spectrometers and how they integrate with aircraft and how that power distribution has to work and how gimbals work and all those things work. Most of the classes I've read just say, 'This is a drone. This is how it flies.'"
While not all 15 students in the class are
looking for a career in the drone industry, Granich says a handful do have that goal. After finishing the course, the students can take the FAA's Part 107 exam to fly commercially.
Granich notes that the state of Georgia has been supportive of the curriculum so far.
"We look at it as a chance for industry, education and government to all work together to actually have a good, safe drone system and drone education pipeline."
As drones continue to increase in popularity and their use reaches various fields, Granich believes drone education will find its way into more and more high school classrooms.
"I think it's a great way to get kids into engineering and flight stuff. They learn a lot. They actually have to do math. I don't just let them say, 'Here's a drone. Let's fly it and take a picture with it.'"

Follow AirVūz News for all the latest updates in the drone community!