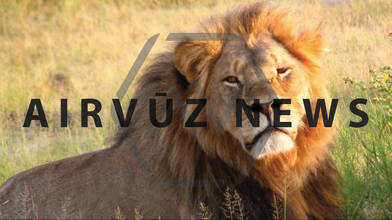 AV News: The Man Fined $55k by the FAA
over 5 years ago
1.7k VŪZ
7

3
Report
A $55,000 fine by the FAA - fair or not? Hear from the man at the center of the controversy in his exclusive sit-down interview with Tyler Mason from AirVūz News.

__________________

A Minnesota man faces tens of thousands of dollars in possible fines from the FAA… He says, for trying to help out a friend. That friend created a memorial to Cecil the Lion- a popular lion in Africa, killed by a Minnesota hunter. He asked Mical Caterina to fly over it, and take video for the group's Facebook page.
Filmed at a Saint Paul Park last August, it included a human chain in the shape of the lion. Caterina – a 59-year-old sound technician flies his drone as a hobby.
"I told him, I said, number 1, I'm not a professional. I can't charge you.' He thought it was funny. He started laughing. He says, 'That's good, because I don't have a budget to pay anybody.'"
Before the event, Caterina checked out the park where the tribute was taking place. He made sure he wouldn't be using his DJI drone in any of the FAA's no-fly zones. And he says he clarified with event organizer that he wouldn't fly directly over the people in the tribute. Caterina also said he wasn't within five miles of an airport, although knowbeforeyoufly.org shows he was near Holman Field, a small airport in St. Paul.
"'I'm limited to the height, plus I can't fly over a residential neighborhood, and I've got to check with the local airport.' He goes, 'yeah, no problem.' I called him back after I did the no-fly zone map and I'm 5.3 miles or 5.2 miles away, so that's fine. I don't have to call the airport, none of that."
Caterina insists he took every precaution necessary. He even says he attempted to talk to an FAA employee before the flight after the agency had contacted the event organizer regarding drone regulations.
In April, the FAA hit Caterina with a series of five fines- totaling $55,000. The FAA said Caterina flew within three miles of an airport without giving prior notice to air traffic control. It also claimed Caterina flew within 100 feet of a helicopter, and that he was operating his drone commercially. The FAA also cited him for not registering his drone. Caterina has disputed those charges and hasn't paid the fines, but says he cooperated with the FAA when asked for information.
"How they think I'm trying to pull something on them or fly commercially under the radar, you think I'd be talking to the FAA? I'd have made every excuse not to."
AirVuz News contacted the FAA for this story, but the agency said it would not comment on ongoing investigations.
Caterina said he sent the FAA his flight records taken from his drone that day, as well as all of his drone videos he's taken since 2013. He's also waiting on the status of his application for a 333 exemption, which he says he filed in August.
He doesn't have an attorney or a court date. Caterina says he hasn't flown his drone since the flight that landed him in hot water with the FAA.
"The best-case scenario is they drop the case and we go on our merry ways. But if they want to go to court, I'll go to court and just expose all their flaws in their enforcement. I'm all for the safety of these things. I don't want to see anybody get hurt."

Follow AirVuz News for the latest updates in the drone community!