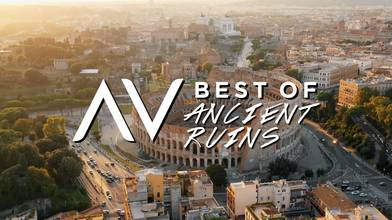 Aerial Views of Ancient Ruins
Updated 09/02/2019 08:53

Modern technology meets ancient history in this aerial compilation created by AirVuz. Drone pilots are flying at some of the world's most famous ancient ruins. The video starts in Greece with amazing drone footage of the Acropolis of Athens, then makes at the Colosseum in Rome Italy, Angkor Wat in Cambodia England's Stonehenge, Petra in Jordan and the Great Wall of China. Other notable stops include Perga in Turkey, Armenia's Temple of Garni, Israel's Masada, and Peru's Machu Picchu.
over 2 years ago
1.8k VŪZ
30

9
Report
To view the entire collection of Ancient Ruins Drone Videos CLICK HERE
List of drone videos in this compilation:
The Ancient City of Ephesus - Alp Karagulle
Parthenon, Acropolis, Athens, Greece - georgelek1966@hotmail.com
Golden Sun on the Roman Empire | DJI Mavic 2 Pro - BeemFlights
AV News: Drones Discover Ruins at Petra - AirVūz News
The Great Wall of China by Drone - Exclusive Aerials
Turkey's Ancient City Perga from Above - Turkey Home
Garni Temple, Armenia - johny kondakjian photography
Mountains of PERU | DJI Mavic Pro Platinum (4k) - Daniel Molina
Secrets of the Judaean Desert - Rea_Burla
Sigiriya, Sri Lanka - NGreyTravels
Anfiteatro Campano - Santa Maria Capua Vetere - feola.mike
Ancient City of Sardes - 4K - jesus_tr
Ancient Temple of Aphaia, Aegina Island, Greece - georgelek1966@hotmail.com
Aizanoi - Ancient Greek City in Kütahya - iskenderfilm
SOURCES:
"42 Amazing Ancient Ruins of the World." The Planet D: Adventure Travel Blog, 28 Apr. 2019, theplanetd.com/amazing-archeological-ruins-of-the-world/.
Orcutt, April. "World's Most-Visited Ancient Ruins." Travel + Leisure, 6 Mar. 2017, www.travelandleisure.com/slideshows/worlds-most-visited-ancient-ruins.