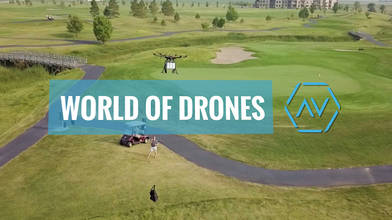 AirVūz News: World of Drones 04/27/20
Published 04/27/2020 07:57

Welcome to the "World of Drones," your weekly news fix for all things drone related. With people all over the world staying home to slow the spread of covid-19, drones are proving to be a powerful technology during a time of distancing. States like California, Texas, Maryland and New Jersey are all turning to drones to remind people to social distance. In the town of Elizabeth, New Jersey, a fleet of five drones on loan from DJI fly around the city blaring an automated message from the mayor saying, "STOP gathering, disperse and go home." After receiving backlash from its citizens, the Elizabeth Police Department said on their Facebook page that they are, "just trying to save lives, not trying to be Big Brother." They also noted that the drones are not recording video or taking photos. Two days after a Connecticut city tried to use drones to monitor its citizens behaviors it was shut down due to public outrage. Early last week the Westport Police Department announced on Facebook its plan to send drones around the city to make sure people were maintaining at least a six foot distance. The pilot project which was in coordination with Candian company Draganfly not only was looking for people in crowds, but the company claims the drones could also measure a person's heart rate, body temperature and other vitals that would indicate a possible infection. After taking the drone out for a test run to show the public how it could be useful, the video backfired and the community was angered. The police department then released another statement on their Facebook page saying that after careful consideration they had chosen not to participate in the, "Flatten the Curve Pilot Program." Let us know what you think? Should police departments be allowed to use drones to monitor the public's behavior?

Another drone delivery service has launched to help people stay safe. Announced late last week, startup company Flytrex, has a service to deliver packages to online shoppers. Flytrex is testing its pilot program in Grand Forks, North Dakota. People place an order on the Flytrex app, the items are then packaged and shipped to a nearby launchpad where they are then deployed for delivery. The drones will drop the goods via a tether than unreals from 80 feet in the air. While testing its system in Grand Forks the service is free, but it plans to expand all across the country and charge a modest delivery fee.

The new DJI Mavic Air 2 is set to be released tonight, but images of the new drone have been leaking all over the internet. We've seen the drone itself and its controller, now the latest photo which comes from the Twitter account OsitvaLV, appears to show the drones packaging, hinting that it could already be in the hands of retailers. Other information leaked from the same person includes a bunch of details on the drones specs, but most notably that the camera would be based on the Sony IMX586. The leaker also gave us a glimpse of the ActiveTrack 3.0. DJI will unveil the new drone during a livestream at 9:30pm ET.

Do you miss baseball? We at AirVuz do, so we compiled a collection of drones videos featuring empty MLB stadiums across the country. Click the link in the description to check it out or if you have a drone video we should add let us know.

It's time to announce the top 5 videos uploaded to AirVuz.com last week. In no particular order: "FROZEN ICELAND" by Siggizoom, "Croatia Aerial Trip" by pushkinflyteam, "PORTUGAL - 4K Drone" by Ericbartolo, "Uzbekistan from above. Best drone video of the Uzbekistan." by Air Cinema, "Traveling in the Caucasus" by DiamondSky. And the Drone Video of the Week and the winner of $250 is… "FROZEN ICELAND" by Siggizoom! This impressive aerial video showing off the landscapes of Iceland is now entered into the Drone Video of the Month contest for April where it would win an additional $500.

Catch World of Drones weekly on AirVuz.com.
over 1 year ago
442 VŪZ
18

11
Report
To watch the previous episode of "World of Drones" CLICK HERE
To see our collection "Bird's Eye Views of Stadiums" CLICK HERE
To learn more about our Drone Video Contests CLICK HERE
Sources:
Martin, Grant. "Flytrex Launches Drone Deliveries For Sheltered-In-Place Shoppers." Forbes, Forbes Magazine, 26 Apr. 2020, www.forbes.com/sites/grantmartin/2020/04/26/flytrex-launches-drone-deliveries-for-sheltered-in-place-shoppers/?ss=forbes-travel#3f4859915d89.
"NJ Town Resorts to Talking Drones to Enforce Social Distancing." NBC New York, NBC New York, 9 Apr. 2020, www.nbcnewyork.com/news/local/nj-town-resorts-to-talking-drones-to-enforce-social-distancing/2364912/.
Shackford, Scott. "Community Anger Shuts Down Connecticut City's Plan To Use Drones for Coronavirus Monitoring." Reason.com, Reason, 24 Apr. 2020, reason.com/2020/04/24/community-anger-shuts-down-connecticut-citys-plan-to-use-drones-for-coronavirus-monitoring/.
Spires, Josh. "DJI Mavic Air 2 Packaging Appears Online, ActiveTrack 3.0, Sony IMX586 Sensor." DroneDJ, 26 Apr. 2020, dronedj.com/2020/04/26/dji-mavic-air-2-packaging-appears-online/.