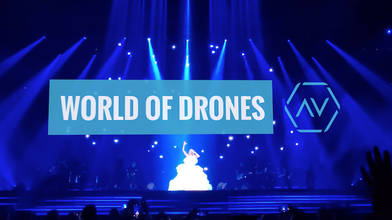 AirVūz News: World of Drones 10/28/19
Published 10/28/2019 07:22

AirVuz News has you covered with your weekly drone news update. This is the World of Drones.

The countdown is on to DJI's "Fly as you are" event. On October 30th the Chinese drone manufacturer will introduce its first consumer drone to the mass-market since the Mavic 2 and Mavic 2 Zoom launched in August 2018. Rumors are spreading that it is going to be a Mavic Mini. Specifications leaked from a retailer suggests the drone will weigh a mere 249 grams, making it less than the 250 gram weight limit that requires people to register their drones and pass a pilot exam to fly. Other online rumors are saying the potential DJI Mavic Mini will have a 30 minute flying time and 2.5 miles of HD Video transmission. Stay tuned to DJI's website for the official announcement on Wednesday.

A New York City council member is proposing that they make drone flights in the Big Apple legal. Justin Lee Brannan believes drone are the future and NYC is missing out on opportunities whether it's with business deliveries, by helping law enforcement and just getting cool footage of New York's beautiful landscapes. He says it's time to quote, "craft common-sense regulations for drones that allow flights where they're safe, restrict them where they aren't and make sure we can get the benefits of these devices while protecting public safety." Brannan is asking for city agencies, private companies and hobbyist drone pilots to advocate for the change. Since the FAA already bans flights over people, near airports and out of the pilot's line of sight and the NYPD already has the power to go after those who break existing laws, Brannan suggests easy-to-understand rules be put into place.

From Avatar to Star Wars and even the James Bond movies, some of the world's most famous films have their locations play a major role. The staff here at AirVuz curated an entire collection of drone videos that show off these movie locations from an aerial perspective. We'll take you on a tour of some of the best videos in this collection on the next episode of Aerial Traveler, which hits AirVuz.com on Wednesday.

Celine Dion's world tour features a drone show. As Dion belts out "My Heart Will Go On" 104 drones will rise from the stage and float around her. They hover in the air until the end of the song when one by one they land until a single drone descends toward Dion's outstretched hands. The drone show was created by the Swiss company Verity Studios, who's famous for creating other drone shows for acts like Cirque du Soleil and Drake.

Drone pilot Manuel Bass aka Mr. FPV has was in Beirut last week flying over the millions of people protesting the government in Lebanon. Using his 5 inch FPV racing drone he captured the scene in an unexpected way. Check out the AirVuz Editorial linked below to learn more.

A cash prize of $250 could be yours if you uploaded a drone video to AirVuz.com last week! Check back tomorrow to see which video got the most votes in our Drone Video of the Week contest and get your videos uploaded asap to be automatically included into this week's contest.
almost 2 years ago
175 VŪZ
18

7
Report
To watch the previous episode of "World of Drones" CLICK HERE
To watch Aerial Traveler CLICK HERE
To see the Movie Locations collection CLICK HERE
To watch our AirVuz Editorial on the Lebanon Protests CLICK HERE
To learn more about our Drone Video Contests CLICK HERE
Sources:
Brannan, Justin. "City Must Bring on the Drones: New York Should Invite Responsible Use of Flying Devices." Nydailynews.com, New York Daily News, 21 Oct. 2019, www.nydailynews.com/opinion/ny-oped-bring-on-the-drones-20191021-dkhss3tmgjaipbxyov655xlxyq-story.html.
French, Sally. "Celine Dion World Tour Involves 104 Drones." The Drone Girl, 21 Oct. 2019, thedronegirl.com/2019/10/23/celine-dion-drones/.
Kesteloo, Haye. "DJI Mavic Mini Specs Reconfirmed - 2.7k Video and 30 Min Flight Time." DroneDJ, 27 Oct. 2019, dronedj.com/2019/10/27/dji-mavic-mini-specifications-reconfirmed-2-7k-video-30-min-flight-time/.
Murison, Malek, and Malek MurisonMalek Murison. "Fly As You Are: New Drone From DJI to Launch on October 30." DRONELIFE, 26 Oct. 2019, dronelife.com/2019/10/26/fly-as-you-are-dji-next-drone/.