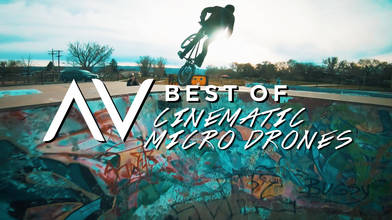 Best of Cinematic Micro Drones
Published 05/08/2019 04:28

FPV pilots are changing the game when it comes to the world of cinematography. The drones are getting smaller and the quality is getting better. A micro drones, sometimes called a "cinewhoop," capture HD footage while flying through tight gaps, maneuvering around people and racing at high speeds. AirVuz put together this FPV compilation to show you what these FPV pilots are able to film with their tiny, custom quads. Tiny Whoops and micro drones are fun to fly indoors, like at a NASCAR garage. Because of their size, these quad are safe to fly close to people. These drones can even be caught mid-air and mid-flight! These drones make flying through windows look easy and with the right FPV pilot on the sticks, the footage will be super smooth. A FPV pilot flew one of these cinematic micro drones like a bird through the Cherry Blossoms in Japan. Another FPV pilot had some fun at the railroad while flying between the tracks and the train. Anywhere you go you can create a drone course, like at a mall. These HD micro drones have even been allowed in some museums. They are becoming one of the best ways to film action sports. Even sports teams like the Harlem Globetrotters see the potential with these little drones. Check out the curated collection of Cinematic Micro Drone videos that AirVuz put together to watch more.
over 2 years ago
1.0k VŪZ
24

8
Report