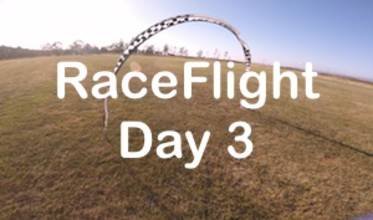 Default PIDs?! Raceflight Day 3
over 4 years ago
287 VŪZ
10

7
Report
So after experiencing some bugs in build 222, I hopped onto one of the latest beta builds of Raceflight One for the Revolt. HOLY COW, how are the default PIDs this good?!

Default values are 30 across the board and I barely changed them. It's seriously stupid how good this default tune is, it's better than my BF tune I've been working on for weeks. How is that possible?

Compared to BF, it feels more locked in and smooth. Much more steering response similar to how the KISS PID controller felt for me around center stick. It's not that BF is bad or doesn't hold a racing line, it just feels a little looser in comparison. I didn't feel like BF was lacking anything until I tried this build of RF.

I ran the same track today on BF and RF, identical builds. Lap times were really close, but my fastest laps were 11.2, 11.4, and 11.5s all on the RF rig. My BF rig was close with most laps between 11.5-11.6s. For one day on this build and stock PIDs, I think that's amazing. The tightness in the PID controller gave me a little more confidence to hold banked angles at speed. I'll be playing more with filters, RC smoothing, etc. to try to get more performance out of this controller over the next week or so.