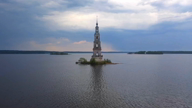 Nikolskaya bell tower at Kalyazin | Колокольня Никольского собора в Калязине
AIRVŪZ STAFF NOTE :
Check out this drone video of a fascinating spot in western Russia, compliments of contributor DroneProduction.ru. It's a partially submerged bell tower near the town of Kalyazin in the Tver Oblast (province), part of the Central Russia Federal District. The tower was built in the late 18th century as part of the Monastery of St. Nicholas. In the 1930's, the damming of the Volga River near here created the Uglich Reservoir; the monastery itself was relocated but the tower remains, partially submerged.
over 2 years ago
666 VŪZ
10

11
Report
It's amazing view of bell tower build in 1800 year as a part of the Monastery of St. Nicholas in Kalyazin. But in 1940 in USSR was great project with Volga river and Uglich man-made lake (water reservoir) which cover with water part of town Kalyazin and main building of the Monastery of St. Nicholas which were disassemble. Bell tower were saved as a lighthouse, cause Volga river have near it turning point. *** Всем известный вид колокольни Никольского собора, которая стоит на островке в воде в городе Калязин. Я собиралась приехать в это место лет 10 :) И вот, наконец, свершилось! Все оказалось проще, чем я думала и крюк в 150км однозначно стоил такого незабываемого зрелища! 😍 Колокольня построена в 1800 году и являлась частью собора. Но, в 1940 году утвердили проект Волгостроя по которому должны были расширить Волгу и создать Угличское водохранилище, которое затопило часть старого Калязина. А, колокольню решили оставить, как маяк, так как река в этом месте делает резкий поворот.