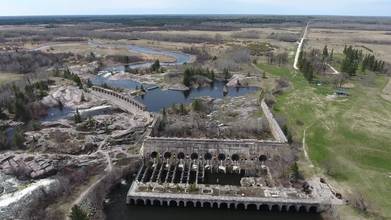 the Old Pinawa Hydro Dam
over 4 years ago
204 VŪZ
8

7
Report
Located on the Winnipeg River in Manitoba (CANADA), Pinawa Dam was Manitoba's first hydro-electric generating station. Pinawa Dam was developed in response to the demand for residential and commercial power and was crucial to the rapid growth of Winnipeg in the pre-war years. The station began delivering power in 1906 and was closed in 1951 to allow the full flow of the Winnipeg River to serve the Seven Sisters Hydro Station built downstream.

Shot on DJI Phantom 4 drone on DJI Go 4 app for Android.

Music:

Free Background Music No Copyright Music – Avalon - Midnight Stroll

Free Download – click.dj/freebackgroundmusic/avalon-midnight-stroll.

Website - www.freebackgroundmusic.co.uk
YouTube - www.youtube.com/freebackgroundmusics
Facebook - goo.gl/2otgOU
Twitter - twitter.com/FreeBMusic
Google+ - goo.gl/TybZuK

Avalon - Midnight Stroll

► SoundCloud - @daniel-steedman-1
► Facebook - www.facebook.com/OfficalAvalon888/?ref=hl
► The audience - www.theaudience.co.nz/avalon-nz/

Free Background Music is a record label which is based on providing FREE BACKGROUND MUSIC with Creative Commons License and music without Copyright for presentation and video creators on YouTube.